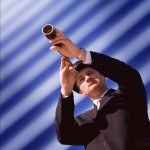 Dr. Peter Jones is executive director of truthXchange, a ministry that exists to recognize and respond to the rising tide of neopaganism. He has authored several books and is the teacher on the series Only Two Religions. At the ligonier website he writes:
The appearance of a new episode of the Star Wars film series is an important moment for Christian witness. To be sure, we can shrug our shoulders, since Star Wars is old news. Or we can enthusiastically introduce our grandchildren to what we might think is a beloved, harmless yarn. Or we can—and should—discover in the series an occasion to sharpen our presentation of the gospel message and help our children and grandchildren, and anyone else who might be interested, to understand the culture in which they live.
In this famous and creative saga, which we must respect for its artistic value, we find many positive ideals—bravery, friendship, love, and spirituality, and others—which help explain the success of the series. However, in examining Star Wars' account of the mystery and nobility of human life, the Bible's answer, in comparison, emerges with incomparably more convincing power.
The Star Wars Phenomenon
Answering questions of morality and spirituality was the goal of George Lucas when he created Star Wars. In the 1970s, in the heyday of secular humanism, people were hungry for spiritual truth. Lucas realized that stories were more powerful than intellectual theories—especially for children. He intended to produce a children's fairy tale set in outer space as a "teaching tool" for the re-creation of "the classic cosmic mysteries." In so doing, he influenced audiences young and old and deeply affected the last few decades of Western civilization. The new films will no doubt extend that influence into the next generations. Continue reading →