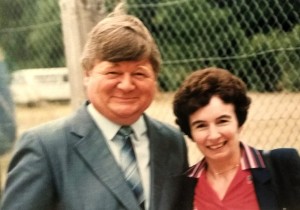 Celebrating the life of Pam Greenwood:
After my years of "theological training" at Bible College, I had the amazing privilege of becoming the Associate Minister of Harry Greenwood. This meant among other things, traveling the world in ministry, preaching with Harry in places like India, Australia, New Zealand and the U.S.A. (where I now serve as a pastor in Phoenix, Arizona)… and it meant living in Harry and Pam's home.
Just as an aside, because of some detail in the schedule that I cannot recall, I remember Harry having to fly out to Australia 3 days before Pam and I. That meant I had the awesome responsibility of accompanying Pam and being her protector for the 26 hours of plane flights and airports, until we were all together again in Australia. When Harry and my eyes met in the Sydney airport, and he could see his darling wife Pam arriving alongside me safe and sound, with all the many bags in tow, he gave me a glance that said "well done kid. You done good! Thank you." It remains one of the proudest moments of my life. I knew how privileged I was in watching over Harry's treasure, and on this occasion at least, I had not dropped the ball.
As you might imagine, in a short space of time, living in Harry and Pam's house (Lindens in Chard, Somerset) meant that I was quickly given a lifetime of insights as to how Christian ministry flows out from the home to the world outside. My recollections of Pam are marked indelibly on my mind, with such great affection. I saw Pam as my 'mother in the Lord."
I fondly remember Pam, each day without fail, reading her Amplified Bible. Often times she would take out her pen and write something in the margin on the page.
On one occasion she was doing this when the phone rang. Getting up to answer it, she left her Bible open next to me on the nearby table. Curiosity got the better of me, and I glanced over to see what she had written.
She had penned the letters "T & P" next to one of the verses on the open page. All this did was peak my curiosity still further, and so, hearing her voice still in conversation on the hallway phone, I picked up her Bible and started skimming through the pages.
What was immediately apparent was the fact that the phrase "T & P" was found almost everywhere I turned. Verses in Genesis, Exodus…. the Psalms, Proverbs.. on into the New Testament, there the phrase appeared again, over and over and over again, "T & P," "T & P," "T & P,".
I had no idea what any of this meant but I understood that whatever it was, it was something extremely important to Pam.
After her phone call was finished, I admitted to Pam that I had noticed her open Bible and read the words she had just written. "But," I said, "would you mind telling me what the phrase 'T & P' means?"
Though a bold lady in the Lord, Pam had a certain shyness. I could see from her facial expression that her answer she was about to share was something extremely precious to her. I knew immediately that I was about to hear something that would reveal much of Pam's true heart. I knew I was about to hear privileged information.
Pam said, "John, 'T & P' means Tested and Proved. These are the promises of God I have found in the Bible that I have both tested and proved to be true. I have gone to God and said 'Lord, You promised this, and I need You to make good on Your holy promise. I need You now. And I believe You now. I am Your child and I believe Your promise. I stand on Your word of promise even now and claim it for myself'… And John, each time you see the phrase 'T & P' in my Bible, it shows that the Lord fulfilled His word to me. He made good on the promise He made in that verse. God is faithful, and I have tested this promise and proved it to be true in my life."
In that moment, I felt I understood much about Pam's walk with the Lord. She read her Bible as God's love letter to her as a loving Father, and herself as His child given abundant promises from Him. In good times and hard times, God can be fully trusted, and she was someone who tested the promises and proved them.
And I think that is one of the many legacies Pam leaves behind to the next generation. God is faithful. Pam Greenwood is a testimony to the faithfulness of God.
As my imagination wonders for a moment, I think of dear Pam now in the direct presence of the Lord Jesus. I think of the amazing promises of God towards His people. And just for a moment I think of these words of Jesus found in John's gospel, chapter 14:
"Let not your hearts be troubled. Believe in God; believe also in me. In my Father's house are many rooms. If it were not so, would I have told you that I go to prepare a place for you? And if I go and prepare a place for you, I will come again and will take you to myself, that where I am you may be also…. for I am the way, and the truth, and the life. No one comes to the Father except through me."
And once again… my imagination wonders a little to envision Pam, perhaps finding a Bible on a table in her mansion in glory… and taking her pen, and writing some new, fresh words in the margin. Next to these words of Jesus, Pam now writes, with a huge, glowing smile on her face… "T & P."
Jesus, the perfect Saviour and Lord… Pam can write, "T & P"
Jesus, who saves His people through grace alone, through faith alone, because of Christ alone… "T & P"
Jesus, the One who carries each of His precious sheep safely home to glory… "T & P"…. "T & P"… "T & P."