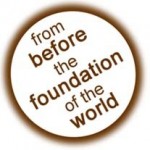 Perhaps you can relate to this – Divine election does indeed seem to be clearly taught in the Bible. Passages such as Romans 8 and 9, Ephesians 1 and 2, John 3, John 6, John 10, John 17, and many others, make a convincing case. However, certain verses, at least at first glance, seem to present a different picture.
Over time I have sought to deal with some of the most frequently cited verses that are raised as objections to Divine election (the "what about?" verses, as I call them) trusting that this can be a helpful resource.
"WHAT ABOUT?" VERSES:

"WHAT ABOUT" CONCEPTS:
How can divine election be true if God is not a respecter of persons?
Does God create people knowing they will end up in hell?
If Divine election is true, why should we even bother to evangelize?
The ten different uses of the word "world" in John's Gospel
Another question that often arises is "how can God be just in requiring man to do what he is unable to do?" John Piper answers that question here in this short video: