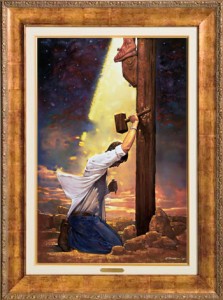 In Romans 8, in the context of Paul revealing God's eternal plan of foreknowing, predestinating, calling, justifying and glorifying a people for Himself (Rom. 8:28-30), he then continues to write about the exact same group of people – the "those," the "many brothers," the "we", the "us", "God's elect". From verse 28 onwards until the end of the chapter, it is this group that is in view.
I have emphasized (in bold) certain words so you can see this clearly in the text:
And we know that for those who love God all things work together for good, for those who are called according to his purpose. For those whom he foreknew he also predestined to be conformed to the image of his Son, in order that he might be the firstborn among many brothers. And those whom he predestined he also called, and those whom he called he also justified, and those whom he justified he also glorified.
What then shall we say to these things? If God is for us, who can be against us? He who did not spare his own Son but gave him up for us all, how will he not also with him graciously give us all things? Who shall bring any charge against God's elect? It is God who justifies. Who is to condemn? Christ Jesus is the one who died—more than that, who was raised—who is at the right hand of God, who indeed is interceding for us. Who shall separate us from the love of Christ? Shall tribulation, or distress, or persecution, or famine, or nakedness, or danger, or sword? As it is written, "For your sake we are being killed all the day long; we are regarded as sheep to be slaughtered." No, in all these things we are more than conquerors through him who loved us. For I am sure that neither death nor life, nor angels nor rulers, nor things present nor things to come, nor powers, nor height nor depth, nor anything else in all creation, will be able to separate us from the love of God in Christ Jesus our Lord.
The whole point of talking, sharing, blogging, preaching and getting our understanding precise as to the intention of God in sending His Son to the cross is not so that our heads would be enlarged by theological speculation, but that our hearts would be broken, crushed; forever amazed and astounded at the love of God for us. God wants us to know the security of His abiding love for us, so that during even the toughest times in life we know that all things work together for the good of His people. The truths of the electing love of God, the finished cross-work of Christ and His continued intercession on our behalf are the firm and solid foundation for this great Romans 8:28 promise, so cherished by His people in the midst of life's storms.
In understanding the perfect work of the perfect Savior my prayer is that the people of God would know more of the riches, treasures, and absolute wonder of God's love, in ways we haven't known before. I for one can sing songs such as this one (below), and feel the weight and power of every word, as I sing out to God, so thankful.. oh, so thankful… for the Cross.
AT THE CROSS
Songwriters: Reuben Morgan; Darlene Zschech
Oh Lord You've searched me
You know my way
Even when I fail You
I know You love me
Your holy presence
Surrounding me
In every season
I know You love me
I know You love me
At the cross I bow my knee
Where Your blood was shed for me
There's no greater love than this
You have overcome the grave
Your glory fills the highest place
What can separate me now?
You go before me
You shield my way
Your hand upholds me
I know You love me
You tore the veil
You made a way
When You said that it is done
And when the earth fades
Falls from my eyes
And You stand before me
I know You love me
I know You love me