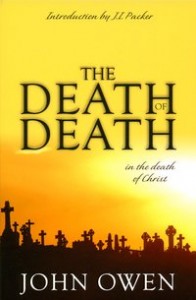 Continued from part 3
I ended the last post on this theme by recommending John Owen's book "The Death of Death in the Death of Christ." It is a majestic work. Though written many decades ago, I believe the arguments presented there remain unrefuted.
Here's what we need to think through. If we as Christians believe that Christ really did make an atonement for sin… if we believe He made an actual rather than a merely hypothetical atonement that really did remove the wrath of God on behalf of sinners, then we need to think through the logical consequences of that.
As John Owen makes clear in the book, if Christ made an actual atonement for sin, then by resistless logic, the following must therefore be true:
"The Father imposed His wrath due unto, and the Son underwent punishment for, either:

1) All the sins of all men.
2) All the sins of some men, or
3) Some of the sins of all men.

In which case it may be said:

That if the last be true, all men have some sins to answer for, and so, none are saved.

That if the second be true, then Christ, in their stead suffered for all the sins of all the elect in the whole world, and this is the truth.
But if the first be the case, why are not all men free from the punishment due unto their sins?

You answer, "Because of unbelief."

I ask, "Is this unbelief a sin, or is it not? If it is, then Christ suffered the punishment due unto it, or He did not. If He did, why must that hinder them more than their other sins for which He died? If He did not, He did not die for all their sins!"
Owen's statement here requires a good deal of thought but I believe it will hold up to scrutiny. Yet many people do not wish to "go there" in their thinking for the simple reason that the ramifications would mean the need to abandon what may be a firmly and dearly held tradition.
As I noted earlier in this series, all particularists (those who believe that not all people will be saved ultimately) limit the atonement in some way. The Arminian limits its power (for it only has any benefit to man at all if man is the deciding factor and activates the mere potential nature of its saving work through an act of faith), whereas the reformed person limits its extent (Jesus died for some and not all). Yet bear in mind the power of such an atonement, a real atonement, that actually atones and even provides the gifts of repentance and faith for the people of God.
In the video below, Dr. James White mentions an incident when a Christian lady came up to him after one of his sermons asking him the loaded and highly emotional question, "You don't believe in limited atonement do you?"
Dr. White responded by saying, "Yes, Maam, I believe that Jesus Christ saves everyone for whom He dies and He intercedes for them. Maam, who do you think He is interceding for today? … the High Priest in the Old Testament, when he offered the sacrifice, he had to present the blood of the sacrifice in the holy place – everyone for whom he offered the sacrficie was those for whom he interceded, and He is interceding in heaven today in the presence of the Father specifically for those He is going to save. Do you really think he is interceding for those who are going to spend an eternity in hell and failing in His intercession?"
I think the answer is obvious. In what we refer to as Jesus' High Priestly prayer in John 17, He made it clear that His intercession was not for everyone. Is it not logical to suggest that His intermediary work as Mediator is done for the exact same people He died for? Note His clear words, "I am praying for them. I am not praying for the world but for those whom you have given me, for they are yours." (John 17:9)
In the video below, my friend, Dr. James White exegetes Romans 8:31-34, showing us the grand design of Christ's substitutionary work, revealing an effectual, powerful atonement on behalf of His elect people.
Romans 8:31 What then shall we say to these things? ("these things" being the Golden Chain of Redemption, where God foreknew, predestined, called, justified and glorified a people for Himself)… If God is for us, who can be against us? 32 He who did not spare his own Son but gave him up for us all, how will he not also with him graciously give us all things? 33 Who shall bring any charge against God's elect? It is God who justifies. 34 Who is to condemn? Christ Jesus is the one who died—more than that, who was raised—who is at the right hand of God, who indeed is interceding for us.
At the cross, the angel's words to Joseph in Matthew 1:21 were fulfilled, "You shall call His name Jesus, for He shall save His people from their sins." I believe He actually did that. I believe in Limited Atonement.
For a detailed presentation on the Golden Chain of Redemption (Romans 8:28-30), you may be interested in hearing a sermon of mine on that theme here.
continued in part 5 here