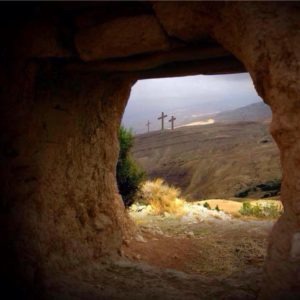 Article: He Is Risen: Historical Evidence That Jesus Rose From The Dead by James Bishop (original source here)
Is there any evidence that this actually happened, or is this just a product of myth, legend, or religious wishful thinking? As it turns out, the resurrection of Jesus is well supported by historical evidence and serves as the best explanation for the facts surrounding his life, death, and the emergence of early Christianity.
In this article we shall focus on New Testament Scholar Gary Habermas' minimal facts approach (MFA). The MFA, explains Habermas, "considers only those data that are so strongly attested historically that they are granted by nearly every scholar who studies the subject, even the rather skeptical ones" (1).
This comes after Habermas has sifted through some 3000 peer reviewed academic articles penned in several languages. Having done so Habermas identifies 12 such facts (2) (3) but we shall focus only on four that are needed to make the case for Christ:
Jesus' crucifixion.
Jesus' burial.
Jesus' empty tomb.
Jesus' post mortem appearances that convinced Paul, James and the disciples that he had been raised from the dead.
General Reliability
Since we will review the New Testament I want to make the case that we can trust them as historical documents. We won't assume that the biblical texts are inspired or that they are inerrant. We shall simply approach the New Testament as basic historical documents. As I have argued before there are six main areas we will focus on (4).
The gospels are our primary sources for learning about Jesus. Contemporary critical New Testament historian and professor of Religious Studies Bart Ehrman affirms we can make use of the "New Testament Gospels." He explains that doing so "is not for religious or theological reasons… these alone can be trusted. It is for historical reasons, pure and simple" (5).
IN AGREEMENT PROFESSOR RICHARD BURRIDGE CLAIMS THAT WHEN "JUDGED BY THE CRITERIA OF THE 1ST CENTURY AND I THINK THEY [GOSPELS] ARE PRETTY RELIABLE DOCUMENTS" (6).
It is thus not disputed that the gospels do, to a greater or lesser extent, give us good historical information on Jesus.
Such a position is strengthened since consensus today (10) holds the gospels to be the "genre of biographies" (7), "ancient biographies" (8), and "as modified ancient biographies" (9). This important fact conveys to us the author's motive, namely to provide an account of what really happened.
Historians note that archaeology supports the gospel accounts which goes a long way in demonstrating that they are grounded within history. There are many such confirmations concerning the gospels, as Distinguished Professor Craig Evans explains,
"MATTHEW, MARK, LUKE, JOHN, THE BOOK OF ACTS—THESE ARE THE BASIC NARRATIVE BOOKS OF THE NEW TESTAMENT. THEY TALK ABOUT REAL PEOPLE, REAL EVENTS, REAL PLACES, AND THE ARCHAEOLOGIST CAN SHOW THAT" (11).
Scholar Paul Johnson agrees writing that "Historians note that mounting evidence from archaeology confirms rather than contradicts the accounts of Jesus" (12). Then historians have extra-biblical affirmation of gospel events, as historian Habermas explains, "When the combined evidence from ancient sources is summarized, quite an impressive amount of information is gathered concerning Jesus and ancient Christianity" (13). Continue reading →