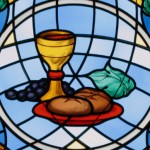 In an article entitled, "Calvin's Doctrine of the Lord's Supper," Keith Mathison writes:
John Calvin is widely considered to be one of the greatest theologians of the Reformation era. Many associate his name with doctrines such as the sovereignty of God, election, and predestination, but fewer are aware that he wrote extensively on the doctrine of the Lord's Supper. The topic occupied many of his sermons, tracts, and theological treatises throughout his career. Calvin's emphasis was not unusual. Among the many doctrines debated during the Reformation, the Lord's Supper was discussed more than any other.
By the time Calvin became a prominent voice in the late 1530s, the Reformers had been debating the Lord's Supper with Roman Catholics and with each other for years. In order to understand Calvin's doctrine of the Lord's Supper, it is necessary to understand the views he opposed. Throughout the later Middle Ages and up until the sixteenth century, the Roman Catholic doctrine of the Mass was the received view in the Western church. Two aspects of the Roman Catholic doctrine require comment: Rome's view of the Eucharistic presence and Rome's view of the Eucharistic sacrifice.
According to Rome, Christ's presence in the sacrament is to be explained in terms of the doctrine of transubstantiation. The doctrine of transubstantiation asserts that when the priest says the words of consecration, the substance of the bread and wine is transformed into the substance of the body and blood of Christ. The accidens (that is, the incidental properties) of the bread and wine remain the same. Rome also teaches that the Eucharist is a propitiatory sacrifice; in fact, the same sacrifice Christ offered on the cross. The Eucharistic sacrifice is offered for the sins of the living and the dead.
The Reformers were united in their rejection of both aspects of Rome's doctrine of the Lord's Supper. They rejected transubstantiation, and they rejected the idea that the Lord's Supper is a propitiatory sacrifice. In his book The Babylonian Captivity of the Church (1520), Martin Luther attacked both of these doctrines. Also opposed to Rome's doctrine was the Swiss Reformer Ulrich Zwingli. However, although Luther and Zwingli agreed in their rejection of Rome's doctrine, they were not able to come to agreement on the true nature of the Lord's Supper.
Zwingli argued that Christ's words "This is my body" should be read, "This signifies my body." He claimed that the Lord's Supper is a symbolic memorial, an initiatory ceremony in which the believer pledges that he is a Christian and proclaims that he has been reconciled to God through Christ's shed blood. Martin Luther adamantly rejected Zwingli's doctrine, insisting that Christ's words "This is my body" must be taken in their plain, literal sense. Continue reading →