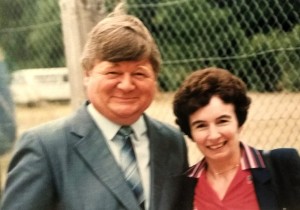 Celebrating the life of Pam Greenwood:
After my years of "theological training" at Bible College, I had the amazing privilege of becoming the Associate Minister of Harry Greenwood. This meant among other things, traveling the world in ministry, preaching with Harry in places like India, Australia, New Zealand and the U.S.A. (where I now serve as a pastor in Phoenix, Arizona)… and it meant living in Harry and Pam's home.
Just as an aside, because of some detail in the schedule that I cannot recall, I remember Harry having to fly out to Australia 3 days before Pam and I. That meant I had the awesome responsibility of accompanying Pam and being her protector for the 26 hours of plane flights and airports, until we were all together again in Australia. When Harry and my eyes met in the Sydney airport, and he could see his darling wife Pam arriving alongside me safe and sound, with all the many bags in tow, he gave me a glance that said "well done kid. You done good! Thank you." It remains one of the proudest moments of my life. I knew how privileged I was in watching over Harry's treasure, and on this occasion at least, I had not dropped the ball.
As you might imagine, in a short space of time, living in Harry and Pam's house (Lindens in Chard, Somerset) meant that I was quickly given a lifetime of insights as to how Christian ministry flows out from the home to the world outside. My recollections of Pam are marked indelibly on my mind, with such great affection. I saw Pam as my 'mother in the Lord."
I fondly remember Pam, each day without fail, reading her Amplified Bible. Often times she would take out her pen and write something in the margin on the page. Continue reading →