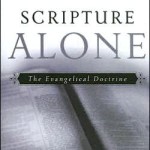 By J.A. Medders, Pastor of Redeemer Church, Tomball, TX
The Solas have to be more to us than historical landmarks, relics from the Reformation. Scripture Alone has an undeniable effect on our lives and the culture, eco-system, and vibe of our churches.
To really live Sola Scriptura is to believe and grasp the sufficiency of Scripture. The Bible is sufficient, powerful, for all of your life in Christ. You don't need John Piper's podcast. You don't lack anything if you can't buy the Christian "Book of the Year." These are all helpful and wonderful things, but if you have God's word, you have the food you need. And this word leads us toward living with God, how to live for God, how to walk in the power of Christ.
In a way, Scripture Alone sets us free.
Scripture Alone Frees Us From The Tyranny of Human Opinion
In the Reformation, the people were weighed down and held captive to the words of men, Popes, Priests, and the Catholic Church ruled over the people.
When Luther was put on trial by the Church, and told to take back everything he said. He refused. He said, "My conscience is captive to the Word of God."
Knowing the Bible sets you free from the tyrannical scepter of human opinion. "The Truth shall set you free." This doesn't mean we shouldn't listen to the biblical counsel and wisdom and Christian friends. Of course, we should; the Bible instructs us too.
Sola Scriptura means the Bible is the ultimately authoritative word in our lives because it is the word of God. No priest, Pope, professor, pastor, or person in our church can pull rank of the revealed word of God.
When a church is living Sola Scriptura, we hear more, "The Bible says…", and less, "I think…".
Pastors and Sola Scriptura
As a pastor, I am not anyone's ultimate authority. Pastors are one authority. We don't believe in Solo Scriptura, meaning that we only listen to Scripture and nothing else. That goes against the very testimony of Scripture. Pastors are only one authority in the Christians life, even other Christians are another authority in our lives, but it is the Bible, that has the ultimate and final say. If I step outside the Bible, I've lost my authority. In speaking with another Christian, if you contradict the Bible, go against what God has said, you are outside of your jurisdiction. Continue reading →