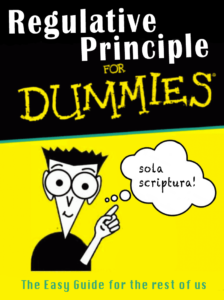 Jeff is a senior editor for The Gospel Coalition. A native of Blairsville, Ga., Jeff holds a bachelor's degree in journalism from The University of Georgia, a Master of Divinity in biblical and theological studies and a Ph.D. in historical theology with an emphasis on Baptist history from The Southern Baptist Theological Seminary, Louisville, Kentucky. He is pastor of New City Church in Louisville, KY. Jeff and his wife Lisa have been married for 19 years and have four children.
I argued that the regulative principle of worship is a Baptist doctrine. But any Baptist worth his or her salt will ask the more salient question: But is it a biblical doctrine?
I want to argue that it is in fact a biblical doctrine and give a brief biblical defense from 32,000 feet. As I sought to show last time, Baptist confessions have articulated it and numerous important figures who have roamed the landscape of the Baptist tradition held it in earnest.
Granted, there is not a single text that may be accessed which says, "You shall only use in gathered worship those elements taught by precept or example in Scripture." But if you take the overall witness of Scripture as to how God expects to be worshiped, I believe a strong case may be made.
Such passages include:
The first four commandments found in Exodus 20:3-4, 7-8. All deal largely with worship. This tells us worship of God is a primary issue, one that God takes with blood-earnest seriousness. Therefore, we should treat it with the utmost care. There should be no place for flippant or breezy worship among the people of God.
The details given by God in the construction of the furniture and garments of worship in Exodus 25-30. In Exodus 30:33, 38, God promises the death penalty for the misuse of anointing oil and incense. From this, it seems that God is meticulous in how he ought to be worshiped.
The warning of the Israelites in Deuteronomy 12:30-32 not to get their ideas of worship from the world around them, but only from God's revelation. This command is relevant for the church today for many obvious reasons. It is certainly admirable to want to appeal to the lost and the church that neglects the Great Commission is disobeying the clear command of Scripture. But, we must remember the wise axiom: What you win them with is what you win them to. The same principle applies to worship.
The death of Nadab and Abihu in Leviticus 10:1-3. God struck them dead for offering "strange fire" to the Lord. This illustrates the seriousness with which God takes the worship of himself.
The disobedience of Saul in offering the sacrifices Samuel was to have offered in 1 Samuel 10:8 and 13:8-13. Continue reading →