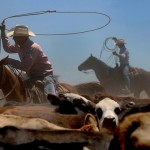 (1) If you think John 3:16 describes God's love for the world, you are absolutely right. But if you think the verse intends to communicate how much God loves the world, "For God so loved the world," the intended meaning of John 3:16 in the original Greek really focuses on HOW God loves the world rather than how much.
God has a love for the world; consequently, He has a vast, multi-ethnic plan of redemption. All those who believe in Christ, no matter what their ethnicity, will be saved.
"God's love for the world is seen in this way: in the giving of His One and Only Son – for this purpose – that all those who believe in Him will not in any way perish but instead have eternal life for certain."
(2) Keller and the Exclusivity of Christ: I agree with Tim Challies when he writes, "I believe the guys at Cripplegate are right to respectfully question Tim Keller on his recent interview with Martin Bashir. "My goal is twofold: (1) I want to respectfully—and hopefully, humbly—voice some serious concerns with how Keller handled this question; and (2) I want to demonstrate the unhelpfulness of how some of his defenders are responding.""
(3) "I pray that, through the intercession of Mary Immaculate whom he so greatly venerated, the Lord may welcome this faithful pastor of the Gospel and the Church into His Kingdom of eternal joy and peace", the Pope concludes. (Vatican Information Service, 5 September 2011)
Turretinfan: "Notice that here the Pope is explicitly requesting Marian intercession for a dead Cardinal (Cardinal Deskur). This falls into the category of prayers "through" Mary (as opposed to prayers simply to Mary) and of prayers "for" the dead.
I know that some of Rome's advocates are fond of saying that one is "just asking Mary to pray" in one's prayers to Mary. Actually, though, the goal here is for the prayed-for person to be accepted on the basis of Mary, that is to say, on the basis of her person and merits. While this is not completely explicit, notice that she's described as "immaculate." This is the wrong way to pray.
Our prayers are to be God through the intercession of Jesus Christ, our one mediator. Only Christ's merits form a sufficient basis for the intercession we need. Christ is not simply the best mediator, he is the only mediator.
It is also foolish to pray for the dead. They have already either entered into Heaven or Hell. There is no third place from which they need to be freed in order to enter into the Kingdom of Heaven. The pope's teaching here is consistent with his own church's dogmas, but not with the Scriptures.
It seems doubly foolish for the pope to pray for the dead in this way. Does he not supposedly possess the ability to release souls from Purgatory by means of indulgence? Why not simply declare the Cardinal free himself rather than hoping that Mary will intercede for him? This aspect of the pope's messages seems out of line with the traditional view of Purgatory – or at least rather odd, considering that the pope evidently feels kindly toward the deceased Cardinal.
To put it in another way, isn't this rather like telling a naked and hungry man, "be warmed and fed," but not actually giving him food and clothing? Perhaps there is more to the story, but it certainly seems inconsistent for the pope not to exercise his own papal prerogatives, if he really wants the Cardinal to get out of Purgatory…"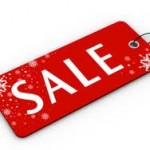 (4) Once again, Ligonier has some SUPER deals today in this week's $5 Friday sale. Especially recommended is Dr. Sproul's book "The Truth of the Cross." It's a great one to give as a gift or to save and give away around Easter. The online sale starts at 8 a.m. EST and goes on for 24 hours or until items are sold out.
Check out the $5 sale items here
.
(5) Wish List: Regular readers of this blog will no doubt confirm that I have talked very little about King's Church in Phoenix, where I serve as pastor. Its currently a very small start up/pioneer Church where we are looking to the Lord to expand as we reach out around us with the gospel of God's grace.
A couple of folk suggested I write out a wish list of items we are needing/praying for. I responded that on a blog, people do not wish to be told about needs. By its very nature, the blog is a ministry that is always to be given free of charge.
They said, "That's very true, but there are some people who have been very blessed by your blog and would wish to know about current needs to see if they can help in any way. You might be pleasantly surprised."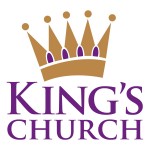 Perhaps they have a point. I am not going to make a habit of mentioning this, but for those interested, here's a short list of ministry items we are hoping to acquire:
Full Sound System (speakers, microphones, mic stands, cables, etc.)
Church Chairs
Pulpit
Video Camera upgrade for making youtube videos
Outreach Tracts
Because the folks here have their own ideas and preferences as to what exactly to purchase, please contact us first before buying anything. However, IF you are interested in helping in any way, please know that even small financial gifts towards some of these expensive purchases would be of enormous help.
(6) India Outreach: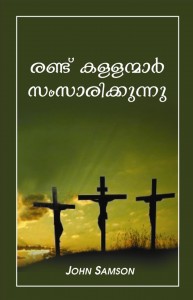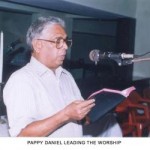 You may remember we provided 10,000 copies of the Gospel tract I wrote "The Thief on the Cross" in the Malayalam language which were handed out to people in the state of Kerala at Easter time. The response and feedback to this very clear gospel presentation has been so encouraging that we made a tentative inquiry to find out how much it would cost for 100,000 tracts to be printed.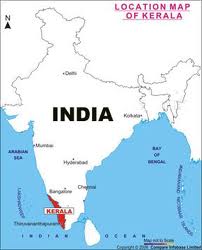 Whereas the cost for 10,000 tracts was approximately $400 USA Dollars, the cost for 100,000 tracts will be $2,600.00. This is the full cost, which includes paper, printing, shipping and distribution handling costs. As you can see, there is a substantial savings (per tract) when there is a larger quantity being printed.
Perhaps this Gospel outreach is something you or your church might like to get behind and support. If so, just write to me and I will give you further details.
Goal: $2,600.00
Amount received (as of 9/9/11): $330.00
(7) "There is probably only one thing that all scientists agree on—that the name of the game in all operational science and technology is verification. The Boeing Company has built a number of its new 787's, the "Dreamliner." All of these planes are involved in a two-year testing program. No paying passenger will ever fly on a 787 until that testing program is completed. The FDA will not allow drugs on the market until they have undergone extensive tests. Automobile companies have recalled thousands of cars because of problems that were not suspected in the original design. We demand this type of testing and proving of products to insure our physical safety.
It is nothing short of amazing that we do not demand this type of verification for our spiritual safety. God seems to be more concerned about our spiritual safety than we are. God verifies! The miracles performed by Jesus and his resurrections of people from the dead were witnessed by thousands of people. In fact, God does extreme verification! He reveals the one area that human will never be able to know: the future. There are hundreds of prophesies in the Bible that have come true—with great specificity and detail. God, Himself, states that this is how we can know that He is the One and True God (Deuteronomy 18: 21-22). God has done everything possible to verify Himself, His Word, and His work.
In stark contrast to God's verification of Himself and His Word, the concept of evolution has not ever been verified and cannot be verified. No one has witnessed the evolution of life from non-life. Nor have they witnessed the evolution of multi-cell life from single-cell life, or the evolution of fishes from invertebrates, or the evolution of amphibians from fishes, or the evolution of reptiles from amphibians, or the evolution of mammals from reptiles, or the evolution of primates from mammals, or the evolution of humans from primates. Nor has anyone witnessed even one of the millions of steps necessary between these major categories.
A case in point…" more here: