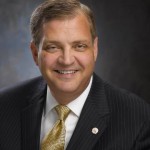 "The problem with Prosperity Theology is not that it promises too much, but that it aims for so little."
"Prosperity Theology certainly sells books and draws crowds in the United States, but what does it possibly say to a grieving Christian wife and mother in Iraq? How can it possibly be squared with the actual message of the New Testament? How can any sinner be saved, without a clear presentation of sin, redemption, the cross, the empty tomb, and the call to faith and repentance? Prosperity Theology fails every test, and fails every test miserably. It is a false gospel, and one that must be repudiated, not merely reformatted."
"God's pleasure in his human creatures centers in his desire and will that they come to faith in Jesus Christ and be saved. The great dividing line in humanity is not between the rich and the poor, the sick and the well, or even the happy and the unhappy. The great divide is between those who, in Christ, have been transferred from the kingdom of darkness into the kingdom of God's glorious light.
Mere happiness cannot bear the weight of the Gospel. The message of the real Gospel is found in John 3:16: "For God so loved the world, that he gave his only Son, that whoever believes in him should not perish but have eternal life." That is a message that can be preached with a straight face, a courageous spirit, and an urgent heart in Munich, in Miami, or in Mosul.
If our message cannot be preached with credibility in Mosul, it should not be preached in Houston. That is the Osteen Predicament."
– Al Mohler
Full article here.