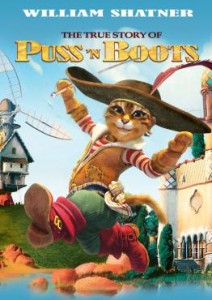 Wanting to relax last night by watching a good clean, "This classic children's tale tells the story of a young farmer's son who inherits a strange talking cat with magical boots. With his cunning wit, Puss helps him win the heart of the Princess while battling devious suitors that are after the throne. Please note: This is NOT the same version as the Antonio Banderas film coming to theaters in November. Rated G by the Motion Picture Association of America."
But do most people read all that? When others might be standing behind them at the redbox, patiently waiting in line to rent, and with many other movies to look at to see if there might be something worthwhile to watch – does everyone read through to the end to see that it is NOT the version they think it is? I dont think so.
So a few of us sat down to start watching the DVD… well, I usually don't review movies here, but I feel I need to make an exception in this case. For the mental health and welfare of humanity I must speak up and make the following heartfelt and sincere plea – DO NOT UNDER ANY CIRCUMSTANCES RENT THIS MOVIE. There is nothing redeemable about it.. nothing good I can say about it. It is BAD! VERY BAD! Actually, it was a lot worse than that!
I went to the redbox website to issue a complaint and soon realised that I did not need to. After reading this random selection of comments below, I think you might agree that others have made their feelings known pretty well:
This movie is hideous. My kids hate me now.
WORST MOVIE EVER!!! Watched 5 mins and had to turn it off. My fault for not reading the info and thinking it was the Puss from Shrek. Regardless, it was not even entertaining – William Shatner's voice for Puss was horrible – sounded like a dying cat. NOT worth the $1.08 – DO NOT WASTE YOUR TIME!
This is so bad I kept it two nights to spare anybody else the trauma of renting it. Bad, bad,bad! No stars.
I just learned a lesson. Always read the reviews before renting. I assumed the voice of the cat would be the same as it was on shrek. I was wrong. William Shatner murdered the voice of the cat. This movie wasn't worth the dvd it was put on. Not worth the half star I gave it.
I can't believe William Shatner was part of this scam. Many like me thought this was the Puss in Boots from Shriek and I let my kids watch. My daughter said it was horrible. Shame on you William Shatner, shame on you.
Biggest movie-renting mistake of our lives! Right up there with Daniel the Dolphin. We also made the mistake of not reading the details – assumed this movie was related to Shrek. Wow, we got duped. We all need therapy after that horrible experience. 0 stars should be a rating option for this one.
William Shatner should be ashamed of himself. He should never be allowed near a movie again!!!! The voice of the cat was the most annoying I have ever heard. He suckered us into believing this was the same Puss n Boots as the one from Shreck. WRONG!!!! This movie deserves a minus 10 stars!!!
This movie was AWFUL!! NOT for little ones. I thought it was Puss from Shrek, as well. It's NOT. Very dark characters. I don't believe that this movie should be rated G, too scary looking
Always, always, always read the reviews first!
This movie was horrible! I can't believe I actually wasted a dollar on this moive. This movie is not kid appropriate in anyway. Shame on me for not paying better attention to the reviews. I tried to think it would get better but it just got painfully worse. My daughter lost interest in a minute.
WORST MOVIE EVER!!! I wish I had read the reviews. This is not the Shrek character. Horrible, horrible voice work by Captain Kirk. Oh God Make it STOP! I had to leave the room, kids got up a few minutes later and said, "hey dad, this is a bad movie". DO NOT RENT!!!!
I dont usually write reviews, but I had to take the time to warn people about this one! DO NOT RENT…THIS IS NOT THE SHREK CAT! It is absolutely awful. My children say "This is weird"? BE WARNED-DO NOT RENT!
"Disturbing" is the word my children used while watching this "knock off" to the real Puss 'N Boots Movie. Shame on me, I should have known the real movie was not released yet. Save your dollar, it is not even worth that. The music is creepy and will scare little children, beware.
This creepy movie made my hard to scare 5 year old cry! It's a very poorly done movie with bad characters. First review I've ever wrote I disliked this so much. Really wish I would have read sooner that it wasn't the dreamworks version, misleading.
We set up a slumber party sleepover and chose this movie – awful! We watched about 10 minutes of it and turned it off to watch normal tv. Not worth a penny!
Super stinky movie. They trick you by making you think this is the Dreamworks version. This cat's voice is the most annoying thing ever… the animation is horrendous.. very low budget. My six year old asked us to turn it off and watch another movie.
Um… I got scammed out of a dollar! I thought this was the Shrek version. I wish I could give this movie negative stars. Didn't even get through the first five minutes.
Weird, weird weird, my kids were super bored. Looks more like an animation experiment than a movie.
this is what they would use to torment captured terrorist with to make them talk. this is the lowest rating they would let me give but i would give it negative 10 stars if i could
What a joke! Truly an unwatchable film. Shatners completely creepy cat voice ruined the movie from the get go, however, character after character added to the movies unbelivable creepyness! Worst movie ever! Nothing cute, sweet or enjoyable at all,,,,,not one moment!
Awful… could not watch more than 15 mins.. my 10 year old begged me to turn it off… Poor Captain Kirk, you have fallen so low…
You will not like this movie because it won't be what you are expecting. It is NOT the cat from Shrek, and the movie is very, very bad. Please, for your own sake, take everyone's advice and don't rent this movie. Redbox, please do everyone a favor and remove it from your machines.
I'd pay to never have to see it again! I think I'd rather gouge my eyes out.
Definitely not the Shrek Puss in Boots. The voices are awful and it was basically the creepiest worst thing ever!
This movie is even worse then the other reviews said it was. Never made it past the first 5 minutes.
AWFUL! The disclaimer that this movie is NOT the Shrek Puss In Boots needs to be ALOT bigger!!! It's weird and creepy and poorly done. So much so that we shut off the movie and quit watching it. I would have given NO stars if possible.
Don't watch this movie if you are feeling in any way suicidal. It just might send you over the edge. Its that bad.