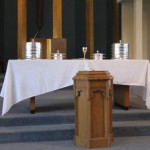 Article by Ray Ortlund – (original source God causes the ordinary means of His grace to make an extraordinary impact on many people.
This idea of "the means of grace" answers these questions: How do I, as a believer, access the grace of the Lord for my many needs? Where do I go, what do I do, to connect with the real help He gives to sinners and sufferers here in this world? I know I am saved by His grace alone. But Jesus said,
Come to me, all who labor and are heavy laden, and I will give you rest. Take my yoke upon you, and learn from me, for I am gentle and lowly in heart, and you will find rest for your souls. For my yoke is easy, and my burden is light. (Matt. 11:28–30)
I believe that. I want that. But, at a practical level, how do I come to Him for His grace?
God's Way
Our gracious Lord is not playing "catch me if you can" with us. He wants us to be sure of Him, come to Him, and draw strength from Him so that we can live fully for Him. But He does not give Himself to us in any way we might devise. He has made Himself knowable and accessible in specific ways of His own wise choosing. His appointed avenues of blessing are the means of grace. We are profoundly thankful to our Lord for providing open avenues of grace for us as we walk through this world, crowded as it is with enticing means of "anti-grace" pressing upon us every day.
Westminster Shorter Catechism question 88 asks, "What are the outward means whereby Christ communicates to us the benefits of redemption?" The catechism's answer is,
The outward and ordinary means whereby Christ communicates to us the benefits of redemption are his ordinances, especially the word, sacraments and prayer; all which are made effectual to the elect for salvation.
God does not limit Himself to His wonderful means of grace. Jesus said that the wind of the Spirit "blows where it wishes" (John 3:8). But if we are wondering where we can be sure to find the Lord, the answer is His standard means of grace, made effective by His own living presence. His chosen means are not intended to restrict His availability, but the opposite. His chosen means identify where He has concentrated His availability, like a gushing fountain of mercy for sinners who are so desperate that they are finally coming to Christ on His terms.
The Means of Awakening
Awakening or revival occurs when these ordinary streams of divine blessing flow out with unusual power, and the benefits of the gospel pour out upon us with wonderful impact that is clearly of God and not at all of ourselves.
If we long for our churches to experience more of this awakening power in the gospel, the remedy is not to invent our own delivery systems for God's grace. The remedy might be found in correcting our neglect or misuse or corruption of God's age-old means of grace. We do not need to improve on God's methods. We might need to engage with God's methods more reverently and humbly than we ever have before.
Westminster Shorter Catechism question 85 asks, "What doth God require of us that we may escape his wrath and curse due to us for sin?" The answer is:
To escape the wrath and curse of God due to us for sin, God requireth of us faith in Jesus Christ, repentance unto life, with the diligent use of all the outward means whereby Christ communicateth to us the benefits of redemption.
The catechism thus wisely urges upon us "the diligent use of all the outward means," that is, coming before the Lord with a heart of faith and a purpose of repentance, setting no preconditions on Him but welcoming His lordship over the whole of our lives. Continue reading →