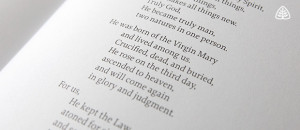 The Doctrine of Imputation: The Ligonier Statement on Christology, by Stephen Nichols. Original source here.
Don't you just love it when good things come together? Ham and eggs. Batman and Robin. Macaroni and cheese. So, how about chocolate chip cookies and the gospel? That might be a new one for you.
In the 1990s, a group of evangelical theologians and church leaders held talks with a group of Roman Catholic theologians and church leaders, and together they produced a statement titled Evangelicals and Catholics Together (ECT). In the aftermath of ECT, much discussion ensued regarding the Roman Catholic understanding of the gospel and how it relates to the understanding of the gospel historically affirmed by evangelicals, the heirs of the Protestant Reformation. The subject of justification by faith alone came up. This was, of course, one of the central issues of the Reformation.
We see how essential the doctrine of justification by faith alone was in the Reformation planks of sola fide (faith alone), sola gratia (grace alone), and solus Christus (Christ alone). These solas stress that salvation is by grace alone through faith alone in Christ alone. We must also see, however, that the Reformers emphasized a word that they found to be absolutely essential to the doctrine of justification by faith alone, which they in turn saw as essential to a right understanding of the gospel. That word is imputation.
During some of the talks around ECT, the historic differences between evangelicals and Roman Catholics over imputation came to the surface. Reformed theologian Michael Horton likened imputation to chocolate chips in the making of chocolate chip cookies. If you set out all the ingredients to make chocolate chip cookies but leave out the singular ingredient of chocolate chips, then you don't have chocolate chip cookies when you pull the tray out of the oven. Likewise, you can have most of the key ingredients of the gospel. You can have the understanding that we are sinners. You can have an understanding of God as holy and just. You can have an understanding of Christ and His work on the cross. But if you leave out imputation, you don't have the gospel. This is why the Reformers considered this word absolutely essential to a biblically faithful proclamation of the gospel. But what does this word imputation mean?
The word imputation comes directly from the Latin. It is an accounting term; it means "to apply to one's account." Expenses are debited and income is credited. The old King James word is "reckon."
In theological terms, we speak of a double imputation that takes place in justification. This double imputation is taught in texts such as 1 Corinthians 5:21, where Paul says plainly, "For our sake he made him to be sin who knew no sin, so that in him we might become the righteousness of God." Here we read that our sin is imputed to Christ. We are the offending party. He is guiltless. He perfectly kept the law. Yet, on the cross, God poured out His wrath on Christ. Why? Because our sin was imputed to Christ. Christ took upon Himself our sin. Our great debit was put on His account. Christ paid the horrific penalty as the cup of God's wrath was poured out upon Him. Continue reading →