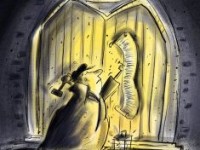 Article by David Mathis (at this link)
The Reformers didn't just protest; they sang. The Protestant Reformation, which began in earnest 500 years ago this week, didn't just give birth to preaching and writing, but it inspired music and unleashed song.
That God declares us rebels fully righteous on the sole basis of his Son, through faith alone — such news is too good not to sing. And that our Creator and Redeemer himself has spoken into our world, and preserved his speech for us in a Book, to be illumined by his own Spirit — such news is too good not to craft into verse. Perhaps the greatest evidence that the Reformation released real joy in freeing captives from the bondage of man-made religion is that its theology made for such a good marriage with music. The Reformation sang.
Battle Hymn of the Reformation
Leading the way not just in word, but in song, was Martin Luther. He wrote nearly forty hymns, many of which he composed not only the words but even the music. His most famous, of course, "A Mighty Fortress," often is called "The Battle Hymn of the Reformation." The song embodies with strength and gusto the very spirit of the Reformation, breaking free from the flaccidity and poverty of medieval theology with rich God-confidence. Continue reading →