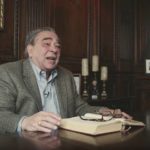 R. C. Sproul: Excerpt from this source.
But what about man's will with respect to the sovereignty of God? Perhaps the oldest dilemma of the Christian faith is the apparent contradiction between the sovereignty of God and the freedom of man. If we define human freedom as autonomy (meaning that man is free to do whatever he pleases, without constraint, without accountability to the will of God), then of course we must say that free will is contradictory to divine sovereignty. We cannot soft-pedal this dilemma by calling it a mystery; we must face up to the full import of the concept.
If free will means autonomy, then God cannot be sovereign. If man is utterly and completely free to do as he pleases, there can be no sovereign God. And if God is utterly sovereign to do as he pleases, no creature can be autonomous.
It is possible to have a multitude of beings, all of whom are free to various degrees but none is sovereign. The degree of freedom is determined by the level of power, authority, and responsibility held by that being. But we do not live in this type of universe. There is a God who is sovereign—which is to say, he is absolutely free. My freedom is always within limits. My freedom is always constrained by the sovereignty of God. I have freedom to do things as I please, but if my freedom conflicts with the decretive will of God, there is no question as to the outcome—God's decree will prevail over my choice.
It is stated so often that it has become almost an uncritically accepted axiom within Christian circles that the sovereignty of God may never violate human freedom in the sense that God's sovereign will may never overrule human freedom. The thought verges on, if not trespasses, the border of blasphemy because it contains the idea that God's sovereignty is constrained by human freedom. If that were true, then man, not God, would be sovereign, and God would be restrained and constrained by the power of human freedom.
As I say, the implication here is blasphemous because it raises the creature to the stature of the Creator. God's glory, majesty, and honor are denigrated since he is being reduced to the status of a secondary, impotent creature. Biblically speaking, man is free, but his freedom can never violate or overrule God's sovereignty.
Within the authority structure of my own family, for example, I and my son are free moral agents; he has a will and I have a will. His will, however, is more often constrained by my will than is my will constrained by his. I carry more authority and more power in the relationship and hence have a wider expanse of freedom than he has. So it is with our relationship to God; God's power and authority are infinite, and his freedom is never hindered by human volition.
There is no contradiction between God's sovereignty and man's free will. Those who see a contradiction, or even point to the problem as an unsolvable mystery, have misunderstood the mystery. The real mystery regarding free will is how it was exercised by Adam before the Fall. Continue reading →