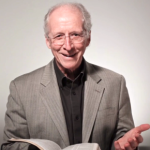 Article by Dr. John Piper (original source here)
Before the fall of Adam, man was sinless and able not to sin. For God "saw everything that he had made, and behold, it was very good" (Genesis 1:31). But he was also able to sin. For God had said, "In the day that you eat of it [the tree] you shall surely die" (Genesis 2:17).
As soon as Adam fell into sin, human nature was profoundly altered. Now man was not able not to sin. In the fall, human nature lost its freedom not to sin.
Why is man not able not to sin? Because on this side of the fall "that which is born of the flesh is flesh" (John 3:6), and "the mind of the flesh is hostile to God, for it does not submit to God's law; indeed, it cannot, and those who are in the flesh cannot please God" (Romans 8:7–8, my translation). Or, as Paul says in 1 Corinthians 2:14, "The natural person does not accept the things of the Spirit of God, for they are folly to him, and he is not able to understand them because they are spiritually discerned."
Notice the word cannot twice in Romans 8:7–8, and the words "is not able" in 1 Corinthians 2:14. This is the nature of all human beings when we are born — what Paul calls the "natural person," and what Jesus calls "born of the flesh."
Too Rebellious to Submit to God
This means, Paul says, that in this condition we "cannot please God," or, to put it another way, "we are not able not to sin." The basic reason is that the natural person prefers his own autonomy and his own glory above the sovereignty and glory of God. This is what Paul means when he says, "The mind of the flesh is hostile to God, for it does not submit . . . "
Glad submission to God's authority, and to God's superior value and beauty, is something we are not able to do. This is not because we are kept from doing what we prefer to do. It is because we prefer our own authority, and treasure our own value, above God's. We cannot prefer God as supremely valuable while preferring ourselves supremely.
The reason for this idolatrous preference is that we are morally blind to the glory of Christ, so that we cannot treasure his glory as superior to our own. Satan is committed to confirming us in this blinding preference. "The god of this world has blinded the minds of the unbelievers, to keep them from seeing the light of the gospel of the glory of Christ" (2 Corinthians 4:4). So when the natural person looks at the glory of God, whether in nature or in the gospel, he does not see supreme beauty and worth.
To Believe We Must See Beauty
This is the basic reason that the natural person cannot believe in Christ. Believing is not just affirming the truth of Jesus, but is also seeing the beauty and worth of Jesus, in such a way that we receive him as our supreme treasure. The way Jesus expressed this was to say, "Whoever loves father or mother more than me is not worthy of me, and whoever loves son or daughter more than me is not worthy of me" (Matthew 10:37). There is no saving relationship with Jesus where faith does not consist in treasuring Jesus above your dearest earthly treasures.
Where this wakening to the supreme glory and value of Jesus (called "new birth") has not happened, the fallen human heart cannot believe in Jesus. That's why Jesus said to those who opposed him, "How can you believe, when you receive glory from one another and do not seek the glory that comes from the only God?" (John 5:44). In other words, you cannot believe in Jesus while you treasure human glory over his. For believing is just the opposite. Believing in Jesus means receiving him as supremely glorious and valuable (John 1:12). Continue reading →