In response to the Calvinist assertion that God decrees all the events of time, Roger Olson (an Arminian) suggests that "Divine foreknowledge is no more causative than human foreknowledge."
Doug Wilson (a Calvinist) responds: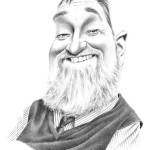 This misunderstands the objection entirely. If we could isolate divine foreknowledge, detaching it from God's other attributes and actions, then this could be a reasonable point. If God's foreknowledge were just like mine, only vast, then what is true of my foreknowledge at a given instant would be true of God's foreknowledge at all those other instants. Fair enough. If I see a bicyclist hurtling toward a tree, I can have certain foreknowledge that he will hit that tree, and yet, because I am fifty feet away, my knowledge is in no way responsible for the collision. Why would this be different just because God can see ten bicyclists, or a thousand of them?
The answer is that He is the Creator of these bicyclists, and His foreknowledge includes all contingent foreknowledge. Contingent upon what? Upon His decision to create. That means that He knows what will happen on Planet Xtar if He decides to create it. The decision to create is therefore causative. The decision to create is causative of all the things that the Creator knows will follow from that particular creation.
This means that divine foreknowledge is not — as mine is — the knowledge of a mere observer. You cannot grapple with the implications of this point unless you combine two points together. God knows exhaustively what will happen in this world if He creates, and because He created it, that act of creation was a decision that willed everything contained within the bundle.
God knows what will happen if He creates the tree and if He creates the bicyclist, and therefore the decision to create is nothing more nor less than predestination in a cheap tux.