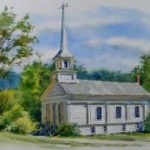 Article: Membership Matters – What is Our Church Covenant? By Matt Schmucker who was the founding executive director of 9Marks. He now organizes several conferences, including Together for the Gospel and CROSS, while serving as an elder at Anacostia River Church in Washington, D.C. (original source here)
INTRODUCTION
Professional athletic teams usually write a "moral clause" into their players' contracts that will negate the financial package if the player fails to display at least a modicum of morally upright behavior. A few years back Jason Kidd was traded by the Phoenix Suns because he was charged with spousal abuse. Jason Kidd's poor behavior off the court was reflecting poorly on the Phoenix Suns, and the Suns were concerned enough about the public reputation of their organization that they appealed to the moral clause in Kidd's contract and disassociated themselves from him.
Back in the '80s IBM had a detailed dress code to which they required all their salesmen to adhere–dark suit, white shirt, dark tie. They wanted you to know when you were dealing with an IBM man; they wanted a certain image to be associated with their organization so that their corporate identity would have positive associations, and so that their corporate reputation would be excellent in the eye of the public.
These two examples underscore the importance of who we say we are, who we identify with, and how that public message and identification relate to how we actually live. In other words, we have to practice what we preach. And if this is true of the corporate world of computers and athletics, how much more is it true of the church corporately and of the Christian individually?
James warns us that "If anyone considers himself religious and yet does not keep a tight reign on his tongue, he deceives himself and his religion is worthless" (Js 1:26).
In other words, if you profess to be a Christian, but you don't live a changed life, you should take no comfort in your faith. John says "We know that we have come to know him IF we obey his commands" (1John 2:3). In short, how we live matters. In this class, we're particularly focused on how we live together as members of a local church.
WHAT IS A 'CHURCH COVENANT'?
A church covenant can be described in five different ways.
A church covenant is a promise – a promise made to God, to a local church, and to one's self.
A church covenant is a summary of how we agree to live. While our statement of faith is a good summary of what we believe, our church covenant is a summary of how we agree to live – more importantly, it is a summary of how God would have us live. It does not include every explicit command regarding obedience, but it does give a general summary of what it means to live as a disciple of Christ.
A church covenant is a sign of commitment – a commitment to God, to His church, and to personal holiness.
A church covenant is an ethical statement. Historian Charles W. DeWeese writes, "A church covenant is a series of written pledges based on the Bible which church members voluntarily make to God and to one another regarding their basic moral and spiritual commitments and the practice of their faith" (Baptist Church Covenants, p. viii). One theologian calls church covenants the "ethical counterpart to confessions of faith."
A church covenant can be an important part of applying a Christian worldview to every aspect of our lives. Inherent in the purpose of a church covenant is the understanding that church membership involves being held accountable to live in a manner consistent with a common understanding of Scripture.
A church covenant is a biblical standard. A church covenant is helpful in a church that is practicing Biblical church discipline. As members of a church, we exhort one another to live holy lives, and we challenge brothers and sisters persisting in sin.
WHERE DO COVENANTS COME FROM?
Now that we know what church covenants are, where do they come from? Well, not from the Bible–not, at least, in the sense of being able to turn to the Book of Covenants chapter 3. But we do see examples of covenants both in the Old and the New Testament–covenants between God and man, and between man and man. Moses gives a covenant from God to the people of Israel. Ezra and Nehemiah do so as well. And in the NT we find that "Christ is the mediator of a new covenant, which is the new covenant in Christ's blood". Primarily, church covenants come from the understanding that churches are to be composed of people who are truly born again. This is what we call regenerate church membership.
In the 16th century, men and women of deep conviction broke away from the Roman Catholic Church to form congregations who understood the importance of the doctrine known as justification by faith alone in Christ alone. No longer did baptism or membership bring supposed new life. Joining and being part of a church was no longer a civic duty or just part of growing up. It was becoming what it was always intended to be – a response of faith to the truth of the gospel. And in this response of faith we gain the most amazing callings: children of the living God, ambassadors of Christ, a royal priesthood; we become the bearers of God's name in the world. Listen to God's word on this issue. "I will show the holiness of my great name, which has been profaned among the nations, the name you have profaned among them. Then the nations will know that I am the Lord, declares the sovereign Lord, when I show myself holy through you before their eyes" (Ezek 36:23). We are called to be living witnesses of God's holiness!