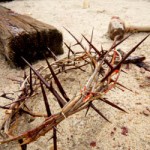 (1) I am not at all sure about the authenticity of the Shroud of Turin but it was certainly interesting to but its still worth getting the gist of – the bottom line is that its more than ok to use the term "Easter" and we are not worshipping pagan gods when we do so.
(3) If you would like to watch something online, but obviously still relevant regarding the evidence for the resurrection of Christ:
(4) The resources in this week's Friday Ligonier $5 sale
are very well worth considering, found here
.
I am praying that this is the most blessed Easter weekend in your life so far!