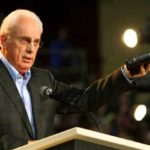 Dr. John MacArthur: A message preached on March 29, 1970, entitled, "Abolishing Death: The Ultimate Triumph" (original source here):
TRANSCRIPT:
Turn in the your Bibles to 1 Corinthians chapter 15, as we look at our lesson for this morning from the Word of God. When you have arrived at that point, just hold your thumb in that area or something to mark verse 54, where we shall consider our text in a few moments. There is a preacher of the old school, but he speaks about as boldly as ever today. He's not very popular, even though the world is his parish, and he travels to every part of the globe, and he speaks in every language. He visits the poor. He visits the rich. He preaches to people of every religion, and he preaches to many of no religion. And the subject of his sermon is always the same. It never changes. He is an eloquent preacher, and he is able to stir emotions in hearts that are not emotional. He is able to bring tears to eyes that seldom weep. His arguments are beyond refutation. There is no heart that remains untouched and unmoved by the force of his appeals. This preacher shatters life. This preacher disturbs the status quo. Most people hate him. Everybody listens to him. His name is death. Every tombstone is his pulpit. Every newspaper prints his text. And one day you will be the subject of his sermon, and he will stand at your graveside and preach to others…
With this in mind, Thomas Gray said, "The boast of heraldry, the pomp of power, and all that beauty, all that wealth ere gave, await alike the inevitable hour, the paths of glory lead but to the grave." With every living soul that comes into this world, there is a built-in little time fuse, and we all have one. And when we're born, it's lit, and it begins to burn. And some burn fast and some burn slow, but all burn. And every birth signals the beginning of a countdown, and every countdown zeroes on an exit. And some countdowns are long and some are short…
And so life is just the process of dying. And yet men shrug off their indifference, and they yawn in God's face while their fuse burns and their countdown continues. And to many men, life may seem like a dead end street. And at the end of that dead end street is the inevitable pine box, and that's about all they have to look forward to…The day when the fuse burns out, the day when the hearse arrives and somebody has reached zero hour. And then what? What after that? I mean is there a hope? Is there an escape from doom? Is there something that has power over death, or does death grab us and hold us?
One night, many years ago, and you all remember it very well, in the Atlantic, there was a very serious, grim countdown. The countdown began for some people who were on a ship called the Titanic, and a huge question mark still hangs over the spot where the Titanic sank. Many people met their countdown then. Life zeroes in on an exit…And I've often looked at the story of the Titanic and asked myself, "Was that the sinking of the world in metaphor?"…Because many people reached their zero hour that night, reached their dead end voluntarily, refusing with scorn the lifeboats that left the ship half filled, thinking that ship couldn't sink. Soon their scorn turned to terror… Continue reading →