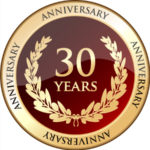 June 27, 2017: Today I am celebrating 30 Years of God's faithfulness. It is 30 years to the day since I entered the Christian ministry.
Also my second book "The Five Solas – Standing Together, Alone" gets published today.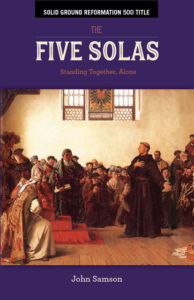 "When your loved ones, friends, & acquaintances ask you why the 500th anniversary of the Protestant Reformation is important to you, this new book by my dear friend Pastor John Samson of King's Church in Peoria, AZ, will help you better explain why. In fact, why not make it a point to order multiple copies to give out, especially to those who are important to you, so they can take more time to absorb the facts on their own as well. Churches should definitely order this book in bulk so congregants can be better equipped to tell others why this event is one of the most vital developments in the history of the world." – Chris Arnzen, Iron Sharpens Iron Radio Broadcast
"John Samson has done it again. He has taken on the heart of the Protestant Reformation and put it into language that can be understood by the common man who cares. The Lord has given our brother a special gift of taking huge concepts and bringing them down where even older children can grasp the truth. "THE FIVE SOLAS: Standing Together, Alone" is coming to us from the printer later today, June 27th. You can order it with our other three REF 500 Titles for just $14.00. The other three are –
REMEMBERING LUTHER'S FIGHT by Kurt Smith
THE THEOLOGY OF THE REFORMATION by B.B. Warfield
The 95 Theses in their Theological Significance by Warfield
PURCHASE ALL FOUR TITLES FOR JUST $14.00.
CLICK AND PURCHASE AND SHARE WITH FRIENDS." – Michael Gaydosh, Solid Ground Christian Books
The new book can be ordered at this link.