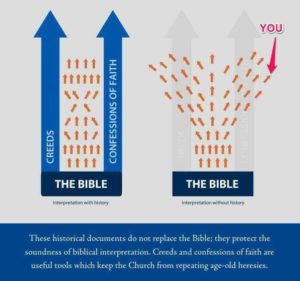 Article: John Gill, the rule of faith and baptist catholicity by David Rathel (original source here)
BAPTIST CATHOLICITY AND BAPTIST HISTORY
I recently read a Baptist theologian bemoan the fact that every systematic theology he read by a Baptist author featured no serious engagement with the great tradition. This theologian further stated that every lecture he attended while a student at a Baptist seminary was similarly deficient. I cannot speak for his experience, but I suspect he is not the first person to make such claims. Baptists are not exactly known for their catholicity.
One can fortunately find in the history of our movement examples to the contrary. The Orthodox Creed used by the General Baptists commended the Apostles' Creed as well as the Athanasian Creed, and numerous Baptist doctrinal statements have employed the Trinitarian grammar provided by the Patristic Era. The church covenant still in use at the New Road Baptist Church in Oxford, England, reads, "We denominate ourselves a Protestant Catholic Church of Christ."
As we explore how some of our Baptist forefathers appropriated the historic tradition, I believe that the works of John Gill, an eighteenth-century Particular Baptist minister, deserve more conversation than they presently receive. His writings display a surprising degree of interest in the larger Christian tradition. His use of the tradition serves as yet another instance of a spirit of catholicity present in the history of the Baptist movement to which contemporary advocates of Baptist catholicity can point. I offer here but one example from Gill's work—his use of the rule of faith—to demonstrate this fact.
JOHN GILL AND THE RULE OF FAITH
Gill begins his systematic theology with a defense of the need to give an orderly account of theology, acknowledging that what he entitles "systematical divinity" has become unpopular during his lifetime. To offer a justification for such a project, he relies primarily on biblical texts that appear to present Christian convictions in an organized fashion—he highlights in particular Heb. 6:1–2—and references such works as the Apostles' Creed, Tertullian's use of the rule of faith, Origen's On First Principles, and Clement of Alexandria's Stromata as examples of earlier attempts to present Christian belief in an arranged manner. The tradition, he believes, serves to legitimize the task of systematizing theology by providing numerous historical precedents.
It is Gill's reference to Tertullian's use of the rule of faith—the regula fidei or the analogy of faith—that merits closer examination. He makes a significant digression at its mention. Gill explains the rule of faith is not the "sacred writings" though it is "perfectly agreeable to them;" it is "articles and heads of faith, or a summary of gospel truths" that one may collect from Scripture. He believes that texts such as Rom 8:30—one that contains a "rich summary and glorious compendium and chain of gospel truths"—and 1 Tim 1:16 give it legitimacy. In his judgment, they present or at least allude to an organized body of Christian teaching.
Gill believes that Tertullian's paraphrase of the Apostles' Creed offers a helpful summary of the content of the rule of faith. While not making the rule of faith and Tertullian's paraphrase synonymous, he does connect the two closely together when he writes that "such a set of principles these [i.e., the Creed], as, or what are similar to them and accord with the word of God, may be called the analogy of faith." After quoting the Creed in full as it is presented in Tertullian's On the Veiling of Virgins, he explains that, though the Creed was not authored by the apostles themselves, it was "agreeable to their doctrine, and therefore called theirs." It was "received, embraced, and professed very early in the Christian church." Continue reading →