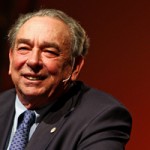 Dr. R. C. Sproul writes:
"Why?" This simple question is loaded with assumptions about what philosophers call "teleology." Teleology, which comes from the Greek word for "goal" or "end" (telos), is the study of purpose. The "why" questions are purpose questions. We seek the reasons things happen as they do. Why does the rain fall? Why does the earth turn on its axis? Why did you say that?
When we raise the question of purpose, we are concerned with ends, aims, and goals. All these terms suggest intent. They assume meaning rather than meaninglessness. Despite the best attempts of nihilist philosophers to deny that anything has ultimate meaning and significance, the perennial question "Why?" shows that they haven't been successful. In fact, even the cynic's glib retort of "Why not?" is a thinly veiled commitment to purpose. To explain why we're not doing something is to give a reason or purpose for not doing it. Purpose remains in the background. Human beings are creatures committed to purpose. We do things for a reason—with some kind of goal in mind.
Still, there is complexity in this quest for purpose. We distinguish between proximate and remote purposes, the proximate being what is close at hand and the remote referring to the distant and ultimate purpose. To use a sports analogy, the proximate goal for the Pittsburgh Steelers offensive line is to make a first down. Making a touchdown is the more remote goal. A goal that is even further off for the team is to win the game. Finally, the ultimate goal is to win the Super Bowl. Continue reading →