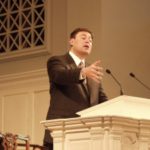 Article by Dr. Mark Dever (an excerpt from What is a Healthy Church? – original source here) Pastor Dever (Ph.D. Cambridge) serves as the Senior Pastor of Capitol Hill Baptist Church in Washington, D.C., and is the author of several books including Nine Marks of a Healthy Church and The Deliberate Church: Building Your Ministry on the Gospel.
Sometimes college campus ministries will ask me to speak to their students. I've been known, on several occasions, to begin my remarks this way: "If you call yourself a Christian but you are not a member of the church you regularly attend, I worry that you might be going to hell."
You could say that it gets their attention.
Now, am I just going for shock value? I don't think so. Am I trying to scare them into church membership? Not really. Am I saying that joining a church makes someone a Christian? Certainly not! Throw any book (or speaker) out the window that says as much.
So why would I begin with this kind of warning? It's because I want them to see something of the urgency of the need for a healthy local church in the Christian's life and to begin sharing the passion for the church that characterizes both Christ and his followers.
Many Christians in the West today (and elsewhere?) tend to view their Christianity as a personal relationship with God and not much else. They generally know that this "personal relationship" has some implications for how they should live. But I'm concerned that many Christians don't realize how this most important relationship with God necessitates a number of secondary personal relationships—the relationships that Christ establishes between us and his body, the Church. God doesn't mean for these to be relationships that we pick and choose at our whim among the many Christians "out there." He means to establish us in relationship with an actual flesh-and-blood, step-on-your-toes body of people.
Why do I worry that if you call yourself a Christian but you are not a member in good standing of the local church you attend, you might be going to hell? Think with me for a moment about what a Christian is.
What a Christian Is
A Christian is someone who, first and foremost, has been forgiven of his sin and been reconciled to God the Father through Jesus Christ. This happens when a person repents of his sins and puts his faith in the perfect life, substitutionary death, and resurrection of Jesus Christ, the Son of God.
In other words, a Christian is someone who has reached the end of himself and his own moral resources. He has recognized that he, in defiance of God's plainly revealed law, has given his life over to worshiping and loving things other than God—things like career, family, the stuff money can buy, the opinions of other people, the honor of his family and community, the favor of the so-called gods of other religions, the spirits of this world, or even the good things a person can do. He has also recognized that these "idols" are doubly damning masters. Their appetites are never satisfied in this life. And they provoke God's just wrath over the next life, a death and a judgment the Christian has already tasted a bit of (mercifully) in this world's miseries. Continue reading →