By David Cloud, Fundamental Baptist Information Service, PO Box 610368, Port Huron, MI 48061 , 866-295-4143 – fbns@wayoflife.org.
The following was first published in the out-of-print book Evangelicals and Rome in 1999:
When Did Graham's Compromise Begin?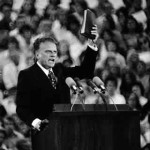 Billy Graham's compromise and disobedience began very early in his ministry. He was born in 1918 into a Presbyterian home and traces his conversion to the preaching of evangelist Mordecai Ham in 1934. He graduated from high school in May 1936 and attended Bob Jones College (which later became Bob Jones University) in the fall but switched to Florida Bible Institute after only one semester because he did not like the strict discipline at Bob Jones.
He notes in his biography that "one thing that thrilled me [about Florida Bible Institute] was the diversity of viewpoints we were exposed to in the classroom, a wondrous blend of ecumenical and evangelical thought that was really ahead of its time" (Graham, Just As I Am , p. 46).
It was during his time in Florida that Graham felt the call to preach. In late 1938, he was baptized by immersion in a Baptist church, and in early 1939, he was ordained to preach by a Southern Baptist congregation.
Graham graduated from the Florida Bible Institute in May 1940 and joined Wheaton College that September, graduating from there in 1943.
In May 1944, he began preaching for the newly formed Chicagoland Youth for Christ, and in January 1945, he was appointed the first full-time evangelist for Youth for Christ International.
He was president of Northwestern Schools (founded by W.B. Riley) from December 1947 to February 1952, though he continued to travel and preach for Youth for Christ and eventually branched out with an independent ministry.
The Billy Graham Evangelistic Association was formed in 1950 and the Hour of Decision radio broadcasts began that same year. Graham conducted his first citywide crusade in Grand Rapids, Michigan, in September 1947, and his October 1948 crusade in Augusta, Georgia, marked the beginning of an openly ecumenical program. This was the first crusade that was sponsored by the city ministerial association. The Graham organization began demanding broad denominational support for his crusades.
During Graham's 1949 Los Angeles crusade, his ministry began to receive national press coverage. Graham's final rift with most fundamentalist leaders did not occur until 1957, though. This was brought about by the open sponsorship of the liberal Protestant Church Council in New York City. The Graham crusade committee in New York included 120 theological modernists who denied the infallibility of Scripture. The wife of modernist Norman Vincent Peale headed up the women's prayer groups for the Crusade. Modernists such as Dr. Martin Luther King, Jr., sat on the platform and led in prayer. In the National Observer, Dec. 30, 1963, King said the virgin birth of Christ was "a mythological story" created by the early Christians. In Ebony magazine, January 1961, King said: "I do not believe in hell as a place of a literal burning fire."
THE COMPROMISE BEGAN MUCH EARLIER THAN 1957, THOUGH. AS EARLY AS 1944, BILLY GRAHAM WAS BEFRIENDED BY ONE OF THE MOST INFLUENTIAL CATHOLIC LEADERS IN AMERICA, FULTON SHEEN. Continue reading →