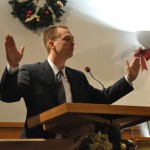 God is a God who dispenses blessing and cursing. Deuteronomy 28 is a chapter devoted to this theme, and it is one found throughout the pages of Scripture, both in the Old and New Testaments. It makes no biblical sense whatsoever to say that one believes in one and not the other. Blessings are real and so are curses.
The most ultimate blessing comes in being near to God, with His favor upon us. In contrast, the ultimate curse is to be adandoned by Him, encountering His disfavor.
Blessings and curses are dispensed through words, usually words that are spoken.
Tim Challies writes the following (after taking notes on a sermon by R C Sproul):
One of the great privileges of pastoral ministry is pronouncing a benediction before the congregation. The benediction is not a mystical performance in which a pastor invokes his own authority or his own position to bless the people, but a time in which he stands before the congregation and brings them a blessing from the Lord. This is why benedictions tend to be drawn directly from Scripture. The pastor simply conveys God's words of blessing.

But consider this. Where there are benedictions—good words from the Lord—there must also be maledictions—bad words. As God gives words of blessing to the people to whom he shows favor, he gives words of curse to those who remain in willful rebellion against him.

I once sat transfixed as R.C. Sproul preached on the curse motif in the Old Testament (this was at Together for the Gospel 2008). He spoke of the well-known benediction that we all love.

The Lord bless you and keep you;
the Lord make his face to shine upon you and be gracious to you;
the Lord lift up his countenance upon you and give you peace.
(Num. 6:24-26)

He spoke of the hope this benediction offers, the hope and confidence of never-ending peace under the loving gaze of a good God.

Sproul spoke also of the supreme malediction, the ultimate curse from God, the very opposite of that great blessing. That terrible malediction might go something like this:

May the Lord curse you and abandon you. May the Lord keep you in darkness and give you only judgment without grace. May the Lord turn his back upon you and remove his peace from you forever.

This is the ultimate hopelessness, the ultimate withdrawal of God's blessing. Here God turns away his face, he brings a curse instead of a blessing, he removes peace instead of extending it. This is a statement of judgment in place of grace. And this is exactly the kind of malediction God will pronounce upon those who continue to reject his grace. It is an eternal malediction that will extend forever.

What is so astounding to me is that this malediction is exactly what God pronounced upon Jesus Christ. In the hours that Christ was on the cross, God cursed and abandoned him, he kept him in the outer darkness and gave him judgment without grace. God turned his back upon him and removed his peace. The only word that did not apply to Jesus was forever. Christ and Christ alone could suffer in such a way that he emptied God's wrath against sin. In those few hours on the cross, he faced an eternal punishment until God's wrath was satisfied, empty, complete.

And because Christ endured the malediction, all who have put their faith in him can confidently enjoy the benediction, trusting in Christ's work on our behalf, believing that through his finished work, we now have the favor of the Lord and will have it forever.