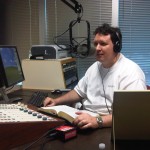 A blog (or weblog) is a kind of online journal. Officially launched on Tuesday, November 2, 2010, this is a place where I share what's currently on my heart and mind. Its where I share things that are fun; things that make smile; make me laugh, and where I pass on things I am learning and things that really make me think and ponder. In other words, its a place where I do my thinking out loud. Many times I will share my own thoughts entirely. At other times I will point to other people who have said something that has impacted me that I think is worthwhile for us all to consider. So this is a place where I share what I am currently learning about life and things that interest me about our world, as well as the God I love and the amazing treasures I am discovering in His word, and their practical application to our everyday lives.
A lot of what I share will be about God. Theology is the study of God. I believe theology matters. Dr. R. C. Sproul once made the remark, "No Christian can avoid theology. Every Christian has a theology. The issue, then, is not, do we want to have a theology? That's a given. The real issue is, do we have a sound theology? Do we embrace true or false doctrine?" I agree. What we think about God really matters, and it matters far more than most of us realize.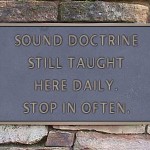 The US consitution gives us the legal right to get theology wrong and not face any discrimination or persecution. Thank God for that freedom and liberty! However, God nowhere allows us to get our ideas and concepts about Him wrong. There's a biblical word for that – idolatry.
The Father seeks those who will worship Him in spirit and in truth (that which corresponds to reality). Heresy is the formulation of false concepts about God that go outside the bounds of Christian orthodoxy and is not a victimless crime. Deceived people, deceive people. It is absolutely vital that we love and worship the one true God and pursue correct knowledge of Him through His word. Hopefully, this blog will be a place for good and sound theology.
Good theology is not the end though – it is a means to the end of knowing God as He really is and being passionate in our pursuit of Him. I wish to see greater intimacy with God in my life so that as each year passes, I can discern that my spiritual walk with God is deeper and more passionate than the year before. I want to celebrate the glorious gospel of Jesus Christ and see its application in every area of life; my life, your life, and in the life of the local church. I am passionate about God, His word, His gospel and His Church. Therefore, I wish to see our great Sovereign God lifted up in the things shared here on this blog, and I want it to serve and benefit the people of God also.
I will seek to update the blog often; sometimes more than once a day, while at other times, it may be a couple of days before I write something. I will make "having something to share, write or communicate" the deciding factors in all this, rather than feeling I have to write something just because I have promised to do so. In all this, may the tri-une God, Father, Son and Holy Spirit be glorified.
John Bunyan, the famous author of Pilgrim's Progress expressed the desire of my own heart for this blog when he wrote:
"If thou findest me short in things, impute that to my love of brevity. If thou findest me besides the truth in aught [any respect], impute that to my infirmity. But if thou findest anything here that serves to your furtherance and joy of the faith, impute that to the mercy of God bestowed on thee and me.

Yours to serve you with what little I have.

John Bunyan"

– Note to Reader, "Saved by Grace," in The Works of John Bunyan, 1:336
So to sum everything up, this is not just my place in cyberspace; hopefully over time, it can be a trusted and safe place for you too – a place to come back to regularly. Therefore I invite your thoughts and comments here. Its a place for us to grow together as we pursue the God who first pursued us and won our hearts with His effectual grace.
Growing together with you,
John
P.S. A Word About Quotes and Articles – Acts 17: 10-12 tells us, "The brothers immediately sent Paul and Silas away by night to Berea, and when they arrived they went into the Jewish synagogue. Now these Jews were more noble than those in Thessalonica; they received the word with all eagerness, examining the Scriptures daily to see if these things were so. Many of them therefore believed…"
Because a teaching or article is found here it should not necessarily imply that I would endorse everything written or taught by the author/speaker elsewhere. However, it does mean that what you find here has been a blessing to me.
The Scripture speaks of the noble attitude of the Bereans who (1) eagerly received the word but (2) tested it (even when the teacher was the Apostle Paul) – by comparing what they heard with the word of God. I would ask you to employ the very same discipline or methodology in all you hear or read. This should be the case both for my articles and for any posted here.
P.P.S. As a follow up to this above, I was asked why I blog when others are around that have far greater web traffic. My response here.