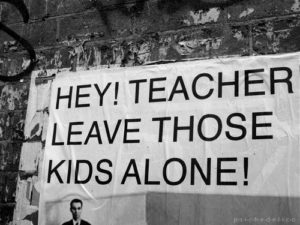 "Whoever isolates himself seeks his own desire; he breaks out against all sound judgment." – Proverbs 18:1
In some sectors of the internet, one can discover professing Christians who live their lives in isolation from the local Church.
Now, we all understand it when someone is providentially hindered from attending a local Church, and that is a very different scenario. I am not speaking of such people. I am referring to those who's absence from the local Church is willful. Not only so, but they actively encourage others to do the same. I believe this to be extremely dangerous. More than that.. I believe the teaching is demonic in origin. Who else but the enemy of our souls would be the source of a teaching that seeks to remove God's precious sheep from the nurture, care and protection of God-given elder/shepherds.
One verse championed by these people, taking out of context (as with all falsehood), is 1 John 2:27 which reads as follows:
"But the anointing that you received from him abides in you, and you have no need that anyone should teach you. But as his anointing teaches you about everything, and is true, and is no lie—just as it has taught you, abide in him."
Note the phrase, "you have no need that anyone should teach you."
There you go… for these people, this verse clearly teaches that the Christian does not need to have leaders and teachers in their lives. They are more than ok to isolate themselves from the local Church.
But is this what 1 John 2:27 is teaching?
The context of the verse says 'No… not at all!!'
Here are some notes from Dr. Sam Storms at his website (found here). You will see, once the context is understood, the true meaning of 1 John 2:27 is abundantly clear:
The Doctrinal Test (1) – 2:18-27
1. Antichrists and Christians – 2:18-21
a. the existence of many false teachers is evidence that this is the last hour – 2:18
John emphatically states that we may know this is (the) last hour because of the existence and activity of many antichrists.
Antichrist – occurs only in the Johannine epistles (2:18(2),22; 4:3; 2 John 7). This word is never used to describe the Beast of Rev. 13. The term is a combination of anti (against or instead of) and christos (Messiah, Christ). The Antichrist thus opposes Christ as his adversary or enemy with a view to taking his place. He is a lying pretender who portrays himself as Christ; he is a counterfeit or diabolical parody of Christ himself. See 2 Thess. 2:3-12.
Westcott writes: "It seems to be most consonant to the context to hold that antichristos here describes one who, assuming the guise of Christ, opposes Christ" (70). Again, "the Antichrist assails Christ by proposing to do or to preserve what He did while he denies Him" (70).
Although they had heard that this person's appearance is yet future, "even now" (kai nun) says John, many antichrists have already come.
Paul wrote in 2 Thess. 2:7 that "the mystery of lawlessness was already at work." In 1 John 4:3 he points out that the spirit of antichrist is now at work in the world. What John means in 2:18 is that the "many antichrists" are forerunners of the one they heard was still to come. Because they proclaim the same heresies he will proclaim and oppose Christ now as he will then, they are rightly called antichrists (esp. in view of their denial of Christ in vv. 22-23).
In 2:22, he writes: 'Who is the liar but the one who denies that Jesus is the Christ? This is the antichrist, the one who denies the Father and the Son. The spirit of the antichrist, says John, is found in anyone who denies that Jesus is God come in the flesh (1 John 4:3).
Again, in 2 John 7, he writes: 'For many deceivers have gone out into the world, those who do not acknowledge Jesus Christ as coming in the flesh. This is the deceiver and the antichrist. Thus, for John, 'antichrist is
* Anyone 'who denies that Jesus is the Christ (1 John 2:22)
* Anyone 'who denies the Father and the Son (1 John 2:23)
* 'Every spirit that does not confess Jesus (1 John 4:3)
* 'Those who do not acknowledge Jesus Christ as coming in the flesh (2 John 7)
Some have argued that John's point is that there is no other antichrist than the one even then operative in his day or the one who takes up and perpetuates this heresy in subsequent history. In other words, anyone in general can be 'antichrist, if he or she espouses this heresy, but no one in particular, whether in the first or the twentieth centuries, is the antichrist as if there were only one to whom the others look forward.
In other words, the 'antichrist' who his readers were told was yet to come is now with them in the form of anyone who espouses the heretical denial of the incarnation of the Son of God. According to DeMar, for example, it is possible that the early church 'heard' that one man was to come on the scene who was to be the Antichrist. John seems to be correcting this mistaken notion (Last Days Madness, 227).
Says B. B. Warfield: Continue reading →