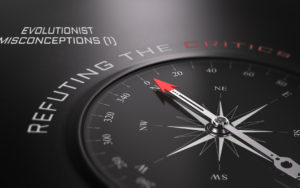 By Dr. Jason Lisle (original source here)
Recently, someone sent me a link to an article appearing in Scientific American – a popular science magazine. The article is entitled "15 Answers to Creationist Nonsense."[1] The article was extremely revealing, but not in the way the author probably intended. The article exhibited a very common problem we often see among evolutionists: ignorance of creation literature. Creationists have written literally thousands of peer-reviewed publications showing how modern scientific discoveries confirm creation and biblical history. These range from layman-level articles, to highly technical scientific publications.
Unfortunately, most evolutionists are too intellectually lazy to read these. Consequently, the majority of evolutionists are badly uninformed about creation.
Not only are they uninformed about creation, but most evolutionists are misinformed. They have heard other evolutionists claim that creation scientists believe a particular thing, but they didn't bother to check. Instead, most simply repeat the claim and the myth is reinforced rather than corrected. This tends to result in straw-man fallacies. Namely, an evolutionist will misrepresent what creationists claim, and then refute that misrepresentation. Indeed, most of the article's criticisms are against a position that no informed creation scientist holds. They are not claims that are published and defended in peer-reviewed creation technical literature. So, far from refuting creationist "nonsense", the critic has actually merely revealed his profound ignorance of the topic.
Second, the article reveals another problem commonly found among the most ardent defenders of particles-to-people evolution: a lack of critical thinking skills. Let's face it. When it comes to origins, evolutionists simply don't reason rationally or scientifically. They might reason very well when it comes to other areas of thinking. But for some reason, when it comes to origins, logic seems to disappear. We see several examples of this in the article. So, let's examine the article's claims, and see if they (1) fairly represent what creation scientists teach, and (2) stand up to rational scrutiny. I will put the article in purple font, with my comments in black.
The problems begin with the article's subtitle:
Opponents of evolution want to make a place for creationism by tearing down real science, but their arguments don't hold up.
This subtitle contains the first straw-man fallacy: it claims that creationists are against science – indeed that creationists are "tearing down" science. This is false. As a creationist, I really like science! I like it so much that I spent years in graduate school to obtain a Ph.D. in astrophysics. Furthermore, most of the active researchers in creation science have a Ph.D. in science, such as Dr. Nathaniel Jeanson, Dr. Georgia Purdom, Dr. Tim Clarey, Dr. Andrew Snelling, Dr. Danny Faulkner, Dr. Russ Humphreys, Dr. John Hartnett, to name just a few. If they are so anti-science, then why do they spend their lives doing science?
Students of logic will also recognize the "no true Scotsman" fallacy in the critic's subtitle. Note the phrase "real science." Presumably the critic wants us to think that his position is scientific and the creationist position is not. And he tries to persuade by simply redefining "true science" as that which corresponds to his beliefs. But anyone could apply that rhetorical trick. I could say, "real science is creation science" and that would have no more logical weight than the critic's assertion.
We also see an example of the question-begging epithet fallacy. This is the fallacy of using rhetoric in place of logic to persuade someone. One such epithet is subtle: evolution is contrasted with creationism. The addition of the 'ism' on 'creation' but not 'evolution' rhetorically suggests that creation is a belief, whereas evolution is not. But no logical argument is made for this, and nothing could be further from the truth. It is empty rhetoric, without any logical merit.
When Charles Darwin introduced the theory of evolution through natural selection 143 years ago, the scientists of the day argued over it fiercely, but the massing evidence from paleontology, genetics, zoology, molecular biology and other fields gradually established evolution's truth beyond reasonable doubt.
Here we have the fallacy of elephant-hurling. Rather than providing actual evidence for Darwinian evolution, the critic simply claims that there is overwhelming evidence for it, and lists many fields of science. This would be acceptable if he later gave specific examples from these fields that establish his claim. But he doesn't. His attempt to persuade is mere rhetoric with no logical merit.
Note that the kind of evolution we are discussing here is the kind Darwin believed in – that all organisms on earth are descended from a common ancestor through progressive modification over billions of years. We might call this "Darwinian evolution."
It is also sometimes called "neo-Darwinian evolution" (since this includes the specifics of mutations and genes which Darwin did not know). It is significant that we do not mean "evolution" in some generic sense of change. Rather, we are debating a very specific claim about how organisms change.
Today that battle has been won everywhere–except in the public imagination. Embarrassingly, in the 21st century, in the most scientifically advanced nation the world has ever known, …
It doesn't seem to even occur to the critic that there might be a connection. Could it be that the reason the United States is so scientifically advanced is because we employ creationist thinking? The creationist presumes the world is upheld by the mind of God, so we expect to find patterns in nature. The creationist believes his senses and mind were designed by God, and therefore have the capacity to learn about nature. These biblical convictions justify our faith in science. But if the universe were just an accident, if our senses are merely the result of accidental mutations, why expect science to work?
…creationists can still persuade politicians, judges and ordinary citizens that evolution is a flawed, poorly supported fantasy.
Again, we see a question-begging epithet fallacy. Presumably, we're supposed to think, "how terrible that people can be convinced that evolution is a poorly supported fantasy!" But that would only be a problem if evolution were not a poorly supported fantasy. Second, notice that the critic does not mention the many scientists that have been persuaded that evolution is a poorly supported fantasy. But if he mentioned that, it might be harder to maintain his façade that science somehow supports Darwinian evolution.
They lobby for creationist ideas such as "intelligent design" to be taught as alternatives to evolution in science classrooms.
There are several problems here. First, there is a whopping big difference between biblical creation, and the intelligent design movement; yet the critic does not distinguish between these two. Most of the creation scientists I know are not affiliated with the intelligent design movement. Creation scientists like myself are not primarily concerned with applying political pressure to get alternatives to evolution taught in secular schools. Neither are we opposed to this. It is simply not our focus. Continue reading →