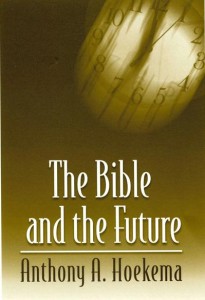 Excerpt from The Bible and the Future by Anthony A. Hoekema
IN THIS CHAPTER AN ATTEMPT WILL BE MADE TO SET FORTH in some detail the amillennial view of the millennium described in Revelation 20. Before we look closely at Revelation 20, we should first concern ourselves with the question of the interpretation of the book of Revelation as a whole. The system of interpretation of the book of Revelation which seems most satisfactory to me (though it is not without its difficulties) is that known as progressive parallelism, ably defended by William Hendriksen in More Than Conquerors, his commentary on Revelation.452 According to this view, the book of Revelation consists of seven sections which run parallel to each other, each of which depicts the church and the world from the time of Christ's first coming to the time of his second coming.
The first of these sections is found in chapters 1-3. John sees the risen and glorified Christ walking in the midst of seven golden lamp-stands. In obedience to Christ's command John now proceeds to write letters to each of the seven churches of Asia Minor. The vision of the glorified Christ together with the letters to the seven churches obviously form a unit. As we read these letters we are impressed with two things. First, there are references to events, people, and places of the time when the book of Revelation was written. Second, the principles, commendations, and warnings contained in these letters have value for the church of all time. These two observations, in fact, provide a clue for the interpretation of the entire book. Since the book of Revelation was addressed to the church of the first century A.D., its message had reference to events occurring at that time and was therefore meaningful for the Christians of that day. But since the book was also intended for the church through the ages, its message is still relevant for us today.
The second of these seven sections is the vision of the seven seals found in chapters 4-7. John is caught up to heaven and sees God sitting on his radiant throne. He then sees the Lamb that had been slain taking the scroll sealed with seven seals from the hand of the one sitting on the throne, indicating that Christ has won a decisive victory over the forces of evil, and is thus worthy of opening the seals. The seals are now broken, and various divine judgments on the world are described. In this vision we see the church suffering trial and persecution against the background of the victory of Christ. When one asks, How do we know when one of these seven parallel sections ends (except for the first one, which forms an obvious unit), the answer is that each of the seven ends with an indication that the end-time has come. Such an indication may be given in terms of a reference to the final judgment at the end of history, or to the final blessedness of God's people, or to both. At the end of this section we have both. There is a reference to the final judgment in chapter 6:15-17, "Then the kings of the earth and the great men and the generals and the rich and the strong, and every one, slave and free, hid in the caves and among the rocks of the mountains, calling to the mountains and rocks, 'Fall on us and hide us from the face of him who is seated on the throne, and from the wrath of the Lamb; for the great day of their wrath has come, and who can stand before it?'"
But there is also a description of the final blessedness of those who have come out of the great tribulation in chapter 7:15-17, "Therefore are they before the throne of God, and serve him day and night within his temple; and he who sits upon the throne will shelter them with his presence. They shall hunger no more, neither thirst any more; the sun shall not strike them, nor any scorching heat. For the Lamb in the midst of the throne will be their shepherd, and he will guide them to springs of living water; and God will wipe away every tear from their eyes."
The third section, found in chapters 8-11, describes the seven trumpets of judgment. In this vision we see the church avenged, protected, and victorious. This section ends with a clear reference to the final judgment: "The nations raged, but thy wrath came, and the time for the dead to be judged, for rewarding thy servants, the prophets and saints, and those who fear thy name, both small and great, and for destroying the destroyers of the earth" (11:18). Continue reading →