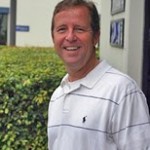 Michael Horton writes:
This past week has been eventful. On Wednesday, I was returning from a trip out of state and as my plane landed, I saw plumes of smoke across San Diego County. One fire came within a few blocks of our home and Westminster Seminary California. My family, cat, and I left as quickly as we could, checking the news for the safest route and location to evacuate. Courageous firefighters put out the threatening blaze within an hour, so we returned home and stayed alert to the news. Our hearts go out to those who lost their homes and who are still displaced. Nevertheless, like most preachers, I saw in the event a good sermon illustration.
God's "two words" of command and promise are evidence of his love for us. His law is like the news reports informing our family that the routes we thought first of taking were closed to us because of fires. It's always hazardous to flee "home base" with so many fires around. You can literally leap from the frying pan into the fire.
Our first response to God's law is to flee, but we look for safe routes apart from the gospel. Ironically, we flee to some version of the law: observant Jews to Torah and Gentiles to the law written on their conscience. Nevertheless, both fail. There is no passable route. The righteousness of God, it turns out, is not a safe haven.
That's Paul's argument in Romans 1-3, concluding in 3:20, "Therefore, no one will be justified by the works of the law, since by the law we become conscious of sin." The law simply reports the dangerous news. It reveals God's essential righteousness, by which he must condemn us all, Jew and Gentile alike. Then the good news: "But now apart from the Law the righteousness of God has been manifested, being witnessed by the Law and the Prophets, even the righteousness of God through faith in Jesus Christ for all those who believe; for there is no distinction (Rom 3:21-22).
Apart from Christ, the righteousness of God terrifies us, but the righteousness from God—the gift of justification—is the best news in the world. "For God has consigned all to disobedience, that he may have mercy on all" (Rom 11:32).
The law reveals God's just sentence and the gospel reveals the same God as "just and the justifier of the one who has faith in Christ" (Rom 3:26). God's law sends everyone fleeing, but only his gospel announces the safe haven. As it turns out, that safe haven is home, but it is Christ who has quenched Mount Sinai's flame.
And now the law does something else. It not only announces the threat; it guides us in safety. There are still "dangers, toils, and snares." After we fled our San Diego fire, we were glued to our TV set for ongoing reports of danger. We were also reminded to prepare for loss of power and to stock up on water and provisions. Instead of announcing a threat, these reports gave us important information. It was still different from good news ("The fire is out!"), but it was also different from pure threat ("Evacuate!").
To change the illustration, we are no longer "under the law" in terms of its judgment. Our relation to the law has changed, because we've been relocated from Adam to Christ. And now we hear God's law not from the mountain that burns with fire, but from Mount Zion, the safe haven where no flame can reach because Christ has extinguished it for us.
In Christ, we discover a Father instead of a Judge. It's the love of God that tells us to flee, and it's the love of God that keeps us informed on what we need to do. Even correction is the discipline of a Father who loves us too much to leave us to ourselves. From this safe place, we can hear the law as the good and wise commands of a Father instead of the sentence of a judge.
For you have not come to what may be touched, a blazing fire and darkness and gloom and a tempest…. But you have come to Mount Zion and to the city of the living God, the heavenly Jerusalem, and to myriads of angels, to the general assembly and church of the firstborn who are enrolled in heaven, and to God, the Judge of all, and to the spirits of the righteous made perfect…. Therefore, since we receive a kingdom which cannot be shaken, let us show gratitude, by which we may offer to God an acceptable service with reverence and awe; for our God is a consuming fire (Heb 12:18, 22-23, 28-29).