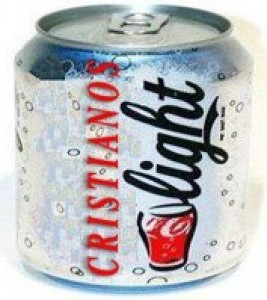 Christianity Light – not enough truth to save you, but just enough to innoculate you against the real thing!
No mention of the holiness of God, the sovereignty of God, the depravity of man, that sin is cosmic treason against supreme Majesty, man's slavery and bondage to sin, his inability to even come to Christ without Divine enablement, his desperate need of forgiveness and atonement, the claims of Christ as Lord as well as Savior, repentance, justification by grace alone through faith in Christ alone, discipleship, submission to the word of God, active membership in a local church where time, talents and treasure are used to love and serve the people of God and advance His gospel.
I know you have seen and heard it… Christianity Light (at a Church or Christian TV/Radio station near you).
2 Timothy 3:14 But as for you, continue in what you have learned and have firmly believed, knowing from whom you learned it 15 and how from childhood you have been acquainted with the sacred writings, which are able to make you wise for salvation through faith in Christ Jesus. 16 All Scripture is breathed out by God and profitable for teaching, for reproof, for correction, and for training in righteousness, 17 that the man of God may be complete, equipped for every good work. 4:1 I charge you in the presence of God and of Christ Jesus, who is to judge the living and the dead, and by his appearing and his kingdom: 2 preach the word; be ready in season and out of season; reprove, rebuke, and exhort, with complete patience and teaching. 3 For the time is coming when people will not endure sound teaching, but having itching ears they will accumulate for themselves teachers to suit their own passions, 4 and will turn away from listening to the truth and wander off into myths. 5 As for you, always be sober-minded, endure suffering, do the work of an evangelist, fulfill your ministry.