Preacher: What would you preach if you knew it would be your last sermon?
I would not need too much time to come up with an answer to that question. My answer would be "the Five Solas of the Gospel" (which can be heard here on this blog site, by clicking on the above audio tab – its the first available sermon there).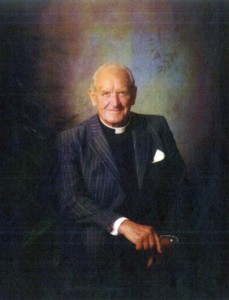 I start by speaking of my father (Rev. Redvers J. Samson – shown here) and the value of sound doctrine. He grew up in a Roman Catholic home but then had a dramatic conversion whilst serving in the military, and eventually became a chaplain in the British army. He was an out and out Evangelist and often preached in the open air. His favorite book of the Bible was the book of Romans, which is the most comprehensive statement of the gospel in Scripture. My Dad knew the entire book by heart.
In meeting with my Dad in the early part of 2005, with both he and I knowing it would be the last time we saw each other, the value of knowing what he believed and why he believed it became apparent in a very powerful way. There was no fear in his eyes whatsoever. He knew where he stood with God. That was because he was solidly grounded in the truths of the five solas of the gospel, which I then explain in the sermon.
I just received this encouraging e-mail today from a lady named Christina. Its great to know this same message blessed her so much.
"Dear Pastor John,

I thought you might like to know that I listened to your sermon tonight, "The Five Solas of the Gospel" and was greatly blessed.

Not only do I like your preaching "style" but I must tell you that I was most blessed by how you captured, and expressed the spirit of the Reformation. It was as if I myself had entered into the story and burned with the same zeal and passion that Martin Luther and the Reformers did.

As you know, so much of what passes off as Christian preaching today would hardly be considered such by the early church fathers. Thank you so much for preaching and posting a message that I can only describe as a return to the "old paths" — something that the church so desperately needs at this hour.

May God raise up more men to preach like this, and may He open many more doors for you to preach the Gospel.

Your friend & sister in Christ,
Christina"

And, I truly mean every word of this!
You can hear the sermon here.