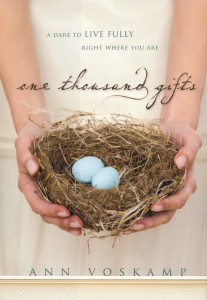 (Updated)
A new book by Ann Voskamp called "One Thousand Gifts: A Dare to Live Fully Right Where You Are" has gained extreme popularity among many Christian women today. However, specifically as sexual intercourse.
There are some who would criticise me for speaking out when I admit right up front that I have not read every word in every chapter of the book; the reason being I was sickened by what I did in fact read. However, I do feel I have read more than enough to have an accurate understanding of what the author is saying and enough to be greatly alarmed.
Some quotes (please note, it is somewhat graphic):
"I fly to Paris and discover how to make love to God."

"God lays down all of His fullness into all the emptiness. I am in Him. He is in me. I embrace God in the moment. I give Him thanks and I bless God and we meet and couldn't I make love to God, making every moment love for Him? "To know Him the way Adam knew Eve. Spirit skin to spirit skin."

"The intercourse of soul with God is the very climax of joy."

"This is what His love means. I want it: union. This is the one gift He longs for in return for His unending gifts, and this even I could give Him, and anywhere. Anywhere–in the kitchen scrubbing potatoes, in the arching cathedrals, in the spin of laundry and kids and washing toilets – anywhere I can have intimate communion with the Maker of heaven and earth. I can't help myself here. Inches from the canvas, strains of Mozart carrying, I whisper eucharisteo:

"Thank you, God, for the bread of now … for Your Son and sacrifice … for the love song You keep singing, the gift of Yourself that You keep giving… for the wild wonder of You in this moment.

"A stranger on the road, my cold heart burns (Luke 24:32) and He is bone of my bone and flesh of my flesh and I am his and He is mine and I want to touch the paint. I want to run my fingertips across the oils, let the colors saturate my skin, let them run into my blood. I want to be in the painting, Supper at Emmaus, the painting to be in me. I want to be in God and God to be in me, to exchange love and blessings and caresses and, like the apostle-pilgrims, my eyes open and I know it because of this burning of the heart: this moment is a divine interchange. I raise my hand slightly, finger imperceptibly the air before the canvas and this is intercourse disrobed of its connotations, pure and unadulterated: a passing between. A connection, a communicating, an exchange, between tender Bridegroom and His bride.
One of the roles a true shepherd of the sheep has is to warn the flock of false doctrine, to help them steer clear of unhealthy or dangerous spiritual food. I do so here:
Concerning "One Thousand Gifts: A Dare to Live Fully Right Where You Are" I find the sexual connotations attributed to our union with God Himself to be profoundly and deeply disturbing. Though the sexual relationship in marriage is a holy thing and should never be viewed as in any way dirty (Heb. 13:4), the Bible never describes the Christian's union with God in sexual terms – never.
But lets for a moment allow for the idea. If what the author says is true and God desires us to worship Him and express ourselves to Him with these sexual connotations, then this would be something all Christians should aspire to. That being the case, it would mean that we should teach these "lofty" concepts to even our youngest children. Who would we be to rob them of the fullest form of unity with God? But for a moment, imagine that. Imagine teaching a little 5 year old girl or boy how to make love to God? I am repulsed by even the thought of it. No, God forbid! My advice is that when you hear or see this concept being taught, run for your life!
Update: Thanks for all the comments, both positive and negative. Its been a lively debate, to be sure, but I am no longer convinced that further discussion would be either fruitful, clarifying or edifying. I believe I took the necessary time to understand the author's words in their context, but of course, my admission that I had not read every word of the book has greatly upset some. However, I do not see the logic here. Please allow me to illustrate what I mean by way of an example.
Lets imagine for a moment that you are reading a book and come across "Chapter 6" which is called "how to kill your Grandmother." You can hardly believe the author can be serious, but when you read further, it becomes obvious that he/she is. The author is writing about what you think he/she is writing about.
You take the time to make sure it is not some big joke, and you read all the relevant sections, taking hours to do so to make sure you have read everything in context.
You even contact others who have read all the book to make sure you have not missed anything that would lead to you to come to a different conclusion as to the author's intent.
Question – would you really need to read every other part of the book before you can feel qualified to comment?
I dont think so. As long as sufficient time has been taken to make sure you have correctly understood the intent of the author.
Perhaps some people strongly disagree with that, but I have yet to hear a valid reason as to why. They may not like it and promolgate an emotional defense of the author and engage in viscious personal ad hominem attacks on myself, but I have seen no logic at all as to why I have no right to speak out. Certainly, I have yet to be shown how I have misinterpreted the author's words I have quoted or in any way taken them out of context.
At one point I tried to read some sections of the book to my mother, but she begged me to stop. While others are obviously thrilled with the author's insight, there are others, like myself, who are obviously deeply troubled. I no longer wish to even keep the book in my house. I definitely do not want my children to find it.
I have no personal axe to grind. I have attacked no one personally nor do I wish to do so (in spite of the vicious and hostile rhetoric sent my way over the last 48 hours or so).
I wish everyone well, and I hope you understand my intent was only to warn of something I felt was worth the warning.
The level and increasing frequency of the personal attacks against me in the comments section here (much of which I have deleted) has led me to conclude that its best to move on. Comments are therefore closed.
Grace and peace.
RUN FOR YOUR LIFE (2)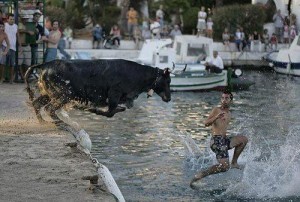 Many thousands look to Rob Bell as a pastor and spiritual leader. His latest book "Love Wins: Heaven, Hell, and the Fate of Every Person Who Ever Lived," about to be released in March, seems to be promoting the heresy of universalism. We will wait and see. I encourage you to read this article by Justin Taylor here for the details.
Update 3 – Justin has been criticised severely by some for making a pronouncement on a yet to be released book. However, Kevin DeYoung provides great insight here on the matter.