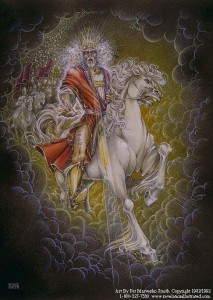 Rev 19:11 Then I saw heaven opened, and behold, a white horse! The one sitting on it is called Faithful and True, and in righteousness he judges and makes war. 12 His eyes are like a flame of fire, and on his head are many diadems, and he has a name written that no one knows but himself. 13 He is clothed in a robe dipped in blood, and the name by which he is called is The Word of God. 14 And the armies of heaven, arrayed in fine linen, white and pure, were following him on white horses. 15 From his mouth comes a sharp sword with which to strike down the nations, and he will rule them with a rod of iron. He will tread the winepress of the fury of the wrath of God the Almighty. 16 On his robe and on his thigh he has a name written, King of kings and Lord of lords.
God elects His own people unconditionally (as Romans 9:6-13 makes clear) as those dead in trespasses and sins can fulfill no spiritual conditions anyway… and what God demands, Christ provides for all His people, including providing repentance and faith as a gift (2 Tim 2:26; Phil 1:29; Eph 2:8,9, Heb 12:2).
However, many preachers in our day speak of God loving all people "unconditionally." When the non Christian hears the phrase "God loves you unconditionally" he immediately interprets this to mean that though he has no interest in God, and no interest in making Christ his Savior and Lord, he can breathe a great sigh of relief and can relax as far as God is concerned because he is under absolutely no threat of Divine judgment. If God in fact loves him unconditionally, that would certainly be the case. He does not have to DO anything – God loves him without any conditions at all. However, the Bible makes it clear that this is not true in any way at all.
"For the wrath of God is revealed from heaven against all ungodliness and unrighteousness of men…" Rom 1:18
"Whoever believes in the Son has eternal life; whoever does not obey the Son shall not see life, but the wrath of God remains on him." – John 3:36
1 Thess 1:9 For they themselves report concerning us the kind of reception we had among you, and how you turned to God from idols to serve the living and true God, 10 and to wait for his Son from heaven, whom he raised from the dead, Jesus who delivers us from the wrath to come."
Wrath is coming on every soul who does not come to Christ for salvation and this wrath (God's just and righteous anger against sin) will last for eternity. When Jesus returns, He comes back full of wrath which will be poured out on all those who have not sought refuge in Him as Savior.
That message is totally lost when people use the phrase "God's unconditional love" and say that God has this kind of love for ALL people. I am not entirely sure I used the phrase "God loves you unconditionally" when preaching the gospel to people, but many years ago I made a conscious determination never to do so. Its not a biblical phrase and it conveys an unbiblical message. More than that, it gives the false impression that there is no danger for any soul who rejects the message of salvation. It is a false message. It is not true biblical Christianity.
Concerning this, John Piper writes: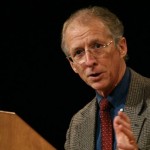 There is such a thing as unconditional love in God, but it's not what most people mean by it.
It's not a saving love that he has for everybody. Else everybody would be saved, since they would not have to meet any conditions, not even faith. But Jesus said everybody is not saved (Matthew 25:46).
It's not the love that justifies sinners since the Bible says we are justified by faith, and faith is a condition (Romans 5:1).
It's not the love of working all things together for our good because Paul says that happens "to those who love God" (Romans 8:28).
It's not the love of the most intimate fellowship with the Father because Jesus said, "He who loves me will be loved by my Father" (John 14:21). And James said, "Draw near to God, and he will draw near to you" (James 4:8).
It's not the love that will admit us into heaven when we die because John says, "Be faithful unto death, and I will give you the crown of life" (Revelation 2:10). And faithfulness is a condition.
How then does God love unconditionally? Two ways (at least):
He loves us with electing love unconditionally. "He chose us in him before the foundation of the world . . . for adoption as sons through Jesus Christ" (Ephesians 1:4-5).
He does not base this election on foreseeing our faith. On the contrary, our faith is the result of being chosen and appointed to believe, as Acts 13:48 says, "As many as were appointed to eternal life believed."
He loves us with regenerating love before we meet any condition. The new birth is not God's response to our meeting the condition of faith. On the contrary, the new birth enables us to believe.
"Everyone who believes that Jesus is the Christ has been [already!] born of God," (1 John 5:1). "[We] were born, not . . . of the will of the flesh nor of the will of man, but of God" (John 1:13).
Let us pray that thousands of people who speak of the unconditional love of God would discover the biblical meaning of what they say. If that happened many would find their feet on solid ground.