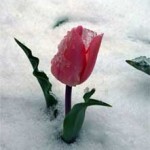 In this, the eight session in the TULIP series, we come to the doctrine of the Perseverance of the Saints. Even here, a lot of confusion and misunderstanding abounds. This doctrine is not to be confused with what is normally associated with the phrase "once saved, always saved" because that is a phrase that has a great deal of theological baggage associated with it. Though the actual phrase would be accurate in and of itself, most understand that phrase to mean that if a person expresses some interest in Christianity, says the sinners prayer, walks the Church aisle, shakes hands with the preacher or signs a "decision" card, that person is guaranteed a place in heaven, even if for the rest of their lives they show no fruit of being a disciple of Christ. Such would be a false hope entirely and is certainly NOT what the Perseverance of the Saints means in any way at all.
The Reformed doctrine of the Perseverance of the Sainsts, the "P" in the TULIP acrostic, refers to the fact that once God starts the work of salvation in a person, He finishes it; He brings it to completion (Phil 1:6). The true child of God perseveres (in faith) because He preserves him! He keeps all His true children safe.
On the other hand, it is entirely possible for someone to have a keen interest in Christianity (say a prayer, be a member of a local Church and even be involved in Christian ministry) and never be a genuine Christian in any way at all.
How do we know that?
Well, because 1 John 2:19 explicitly says that. In referring to those who had once served alongside him in ministry, the Apostle John writes, "They went out from us, but they were not of us; for if they had been of us, they would have continued with us. But they went out, that it might become plain that they all are not of us."
I don't know how John could have been clearer on the issue. According to him, those who leave the faith never truly were in the faith. John did not conclude that such a person was eternally safe because they had prayed a prayer one day long ago. No, for him, the fact that someone left the Chrtistian faith showed that the faith they professed was never really possessed. They were never truly amongst God's elect sheep. They were never a genuine Christian.
Jesus made this clear when declaring the frightful reality of the future judgment, He will shock a great number of people when He turns to many of those who thought they has a close personal relationship with Him (those who say "Lord, Lord…") and had been involved in significant Christian ministry and tell them, "I never knew you; depart from me, you workers of lawlessness." (Matt 7:21-23)
Note the words carefully and understand that He did not say, "I knew you for a while, but you blew it." No, He says, "I never knew you." Obviously, He is not talking about not knowing of their existence, but that there never was a time when He knew them in a redemptive or saving sense. An example of this kind of person in Scripture would be Judas Iscariot, who was one of the Twelve Apostles of Jesus, but who was clearly never truly regenerate, but a devil from the beginning (John 6:64-70).
Contrast this with His words in John 10:27-30, "My sheep hear my voice, and I know them, and they follow me. I give them eternal life, and they will never perish, and no one will snatch them out of my hand. My Father, who has given them to me, is greater than all, and no one is able to snatch them out of the Father's hand. I and the Father are one."
The perseverance of the faith tells us much about Jesus as a Savior. He made it clear that the will of the Father for Him was that of all those given to Him by the Father, He would lose nothing but raise the entire group up to eternal life on the last day (John 6:37-39). I cannot for a moment even contemplate the idea that Jesus fails to do His Father's will.
Similarly, in the great Golden Chain of Redemption, all those God justifies end up glorified, and none fall through the cracks – "…these whom He justified, He also glorified." (Rom 8:30).
God's saving purpose cannot be thwarted – none of Christ's true sheep will ever be lost. Though the elect may for a time fall into radical sin (such as Peter's denial of Christ), God restores them to fellowship with Himself, and assures their eternal salvation. This salvation involves the work of the Trinity – All who are chosen by God the Father, redeemed by Christ the Son, and given faith by the Holy Spirit, are eternally saved. They are kept in faith by the power of Almighty God and thus persevere to the end. They persevere in faith because He preserves them. Jn 3:16; 6:35-40; 6:44; 10:27-29; Rom 8:28-39; Phil 1:6; 2:12-13; Eph 1:13-14; Jude 24-25
Here then is the 8th session of the TULIP seminar by Dr. John Piper.
Part 9 is now posted here.