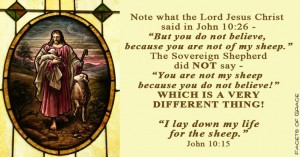 God, chose a group of people out from the vastness of humanity who would be recipients of His mercy – a group whom "no man can number, out of every tribe tongue, people and nation," (Rev. 7:9) who are called "the elect," "His sheep," "His people," or simply those "chosen by God." Many scriptures spell this out for us. Here's just a few of them:
"Blessed be the God and Father of our Lord Jesus Christ who has blessed us with every spiritual blessing in the heavenly places in Christ, just as He chose us in Him before the foundation of the world" (Eph. 1:3, 4)
"but for the elect's sake, whom He chose, He shortened the days." Mark 13:20
"And He will send His angels with a great sound of a trumpet, and they will gather together His elect from the four winds…" Matt. 24:31
"Who shall bring a charge against God's elect? It is God who justifies." Rom. 8:33
"But God has chosen the foolish things of this world…" 1 Cor. 1:27
"as the elect of God, holy and beloved" Col. 3:12
"But you are a chosen generation, a royal priesthood, a holy nation, His own special people, that you may proclaim the praises of Him who called you out of darkness…." 1 Peter 2:9
"God, who saved us and called us with a holy calling, not according to our works, but according to His own purpose and grace which was given to us in Christ Jesus before time began." (2 Tim 1:8)
"But we are bound to give thanks to God always for you, brethren beloved by the Lord, because God from the beginning chose you for salvation through sanctification by the Spirit and belief in the truth, to which He called you by our gospel, for the obtaining of the glory of our Lord Jesus Christ." (2 Thess. 2:13, 14)
God of course, not only ordains who will be saved but also the means whereby they are saved, which is through the preaching of the Gospel. "How shall they hear without a preacher?" (Rom 10:14). We, unlike God, don't know who the elect are, so we are to preach the Gospel to everybody. However, only those He chose (the elect) will respond in genuine faith to the Gospel.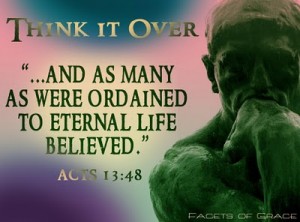 We see this in Acts 13:48, when after hearing the Gospel preached, Luke records, "And as many as had been ordained to eternal life believed." All who had the appointment, made the appointment.
Were it not for His Sovereign Election; were it not for God graciously intervening in the lives of the elect, I would despair that anyone would be saved. That's because, left to ourselves, we do not want Him – we do not want His grace, for it has no appeal to us. Why? Because we are dead in trespasses and sins. It is foolishness to us.

Therefore, God's love moved Him to intervene on behalf of His elect while we were still in a state of being "dead" towards God, as He supernaturally intervened to make us alive (spiritually), effectively drawing us to Christ. The Apostle Paul wrote…. "even when we were dead in trespasses (He) made us alive…" Eph. 2:5. That's clear isn't it? It was "when we were dead" that God made us alive.
In the feeble understanding that our finite minds can grasp (we're on sacred ground here) there was a moment in eternity when the Father determined to express His infinite and perfect love for the Son (this love between the Persons of the Godhead is incomprehensible and inscrutable to us, it is so vast). But this we know about love: it gives. So at some eternal moment, the Father desired to express His perfect love for the Son. The way He determined to express that was to give to the Son a redeemed humanity as a love gift. The purpose of this redeemed humanity was to praise and glorify the Son throughout eternity and to serve Him perfectly. That was the Father's love gift. Evidently the planets wouldn't suffice. The angels wouldn't be enough either.
Not only did He decide to do this, but He decided who would make up this redeemed community and He wrote their names down in the Book of Life before the world began.
It was as if the Father said, "This is the love gift I want to give to You, and they will, forever and ever, praise and glorify Your name." The redeemed community in heaven is forever singing "worthy is the Lamb." In a certain sense, you and I are somewhat incidental here. Salvation is primarily for the honor of the Son, not the honor of the sinner. The purpose is not just so that the saved can enjoy a happy life knowing their sins are forgiven and heaven awaits them. That's a by product. The purpose is to save you so that you could praise the Son for eternity.
"God from the beginning chose you for salvation…" (2 Thess. 2:13)
Jesus said, "My food is to do the will of Him who sent Me and to finish His work." (John 4:34)
John 6:37-44 – "All that the Father gives Me will come to Me, and whoever comes to Me I will never drive away. For I have come down from heaven not to do My will but to do the will of Him who sent Me. And this is the will of Him who sent Me, that I shall lose none of all He has given Me, but raise them up at the last day. For My Father's will is that everyone who looks to the Son and believes in Him shall have eternal life, and I will raise him up at the last day.
At this the Jews began to grumble about Him because He said, "I am the bread that came down from heaven." They said, "Is this not Jesus, the son of Joseph, whose father and mother we know? How can he now say, 'I came down from heaven'?"
"Stop grumbling among yourselves," Jesus answered. "No one can come to Me unless the Father who sent Me draws him, and I will raise him up at the last day."
Verse 37 states, "All that the Father gives Me will come to Me." Jesus is entrusted with a group known as the elect (or the ones given to Him by His Father). These are a gift from the Father to the Son. Those given to the Son by the Father, will come to Christ. It is inevitable that they will. And none in this group will ever be lost.
All in this group are secure because Jesus will finish the work His Father has given Him to do. None of the ones the Father chose to be His from eternity will be lost.
See the biblical sequence then found in verses 37-44:
All that the Father gives are drawn
All who are drawn come
All who come, Jesus receives (and He'll never turn one of them down)
All who are drawn are raised up to eternal life
So much is clear. All Bible believing Christians believe that God elects people. They even agree that He made His choice even before time began. The disagreement arises over the basis upon which people are elected. Is Divine election based on something man does (that God foresees him doing), or is election unconditional?
As John Piper states elsewhere, "If all of us are so depraved that we cannot come to God without being born again by the irresistible grace of God, then it is clear that the salvation of any of us is owing to God's election. Election refers to God's choosing whom to save. It is unconditional in that there is no condition man must meet before God chooses to save him. Man is dead in trespasses and sins. So there is no condition he can meet before God chooses to save him from his deadness. We are not saying that final salvation is unconditional. It is not. We must meet the condition of faith in Christ in order to inherit eternal life. But faith is not a condition for election. Just the reverse. Election is a condition for faith. It is because God chose us before the foundation of the world that he purchases our redemption at the cross and quickens us with irresistible grace and brings us to faith."
With all this in mind, here then is Dr. John Piper in part six of our series on the TULIP.
Part 7 is now posted here.