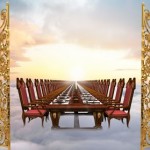 UNCONDITIONAL ELECTION
"So too at the present time there is a remnant, chosen by grace. But if it is by grace, it is no longer on the basis of works; otherwise grace would no longer be grace." – Romans 11:5, 6
In this the fifth session in our biblical study of the Doctrines of Grace, Dr. John Piper deals with the subject of Unconditional Election. Here are a few quotes, as we get started:
"Whatever may be said about the doctrine of election, it is written in the Word of God as with an iron pen, and there is no getting rid of it. To me, it is one of the sweetest and most blessed truths in the whole of revelation, and those who are afraid of it are so because they do not understand it. If they could but know that the Lord had chosen them it would make their hearts dance with joy." – C. H. Spurgeon
"The verb "elect" means to select, or choose out. The biblical doctrine of election is that before the Creation God selected out of the human race, foreseen as fallen, those whom he would redeem, bring to faith, justify and glorify in and through Jesus Christ. This divine choice is an expression of free and sovereign grace, for it is unconstrained and unconditional, not merited by anything in those who are its subjects. God owes sinners no mercy of any kind, only condemnation; so it is a wonder, and matter of endless praise, that he should choose to save any of us; and doubly so, when his choice involved the giving of his own Son to suffer as sin-bearer for the elect." – Dr. J. I. Packer
"I believe the doctrine of election, because I am quite certain that, if God had not chosen me, I should never have chosen Him; and I am sure He chose me before I was born, or else He never would have chosen me afterwards; and He must have elected me for reasons unknown to me, for I never could find any reason in myself why He should have looked upon me with special love." – C. H. Spurgeon
"God intentionally designed salvation so that no man can boast of it. He didn't merely arrange it so that boasting would be discouraged or kept to a minimum – He planned it so that boasting would be absolutely excluded. Election does precisely that." – Mark Webb
"Some people today say that they are perplexed by the doctrine of God's sovereignty and election. I am amazed that anyone who believes in God should stumble at God's sovereignty and election. For if there is a God, a King, eternal, imortal, invisible, and almighty, He has to be sovereign, and He must do all things according to His will, and He must choose according to His purpose! Whom shall He consult? With whom shall He seek counsel and advice? One may DISLIKE THESE DOCTRINES; but you cannot get rid of them without denying altogether the existence of the infinite, wise, glorious God of heaven and earth. God would not be God were He not absolutely sovereign in His eternal pre-arrangments and His present doings. – Horatius Bonar (1808-1889)
"The doctrines of our election, and free justification in Christ Jesus are daily more and more pressed upon my heart. They fill my soul with a holy fire and afford me great confidence in God my Saviour." – George Whitefield, Works, p. 79
"Oh, the excellency of the doctrine of election and of the saint's final perseverance! I am persuaded, till a man comes to believe and feel these important truths, he cannot come to himself, but when convinced of these, and assured of their application to his own heart, he then walks by faith indeed! . . . Love, not fear, constrains him to obedience." – George Whitefield, Works, p. 101
"To know that from eternity my Maker, foreseeing my sin, foreloved me and resolved to save me, though it would be at the cost of Calvary; to know that the divine Son was appointed from eternity to be my Savior, and that in love he became man for me and died for me and now lives to intercede for me and will one day come in person to take me home; to know that the Lord 'who loved me and gave himself for me' (Gal 2:20) and who 'came and preached peace' to me through his messengers (Eph. 2:17) has by his Spirit raised me from spiritual death to life-giving union and communion with himself, and has promised to hold me fast and never let me go – this is knowledge that brings overwhelming gratitude and joy." – Dr. J. I. Packer
Here then is the fifth video in the series, lasting just under 51 minutes:
The sixth video is now posted here.