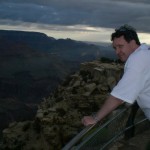 Natural Revelation is a phrase used by theologians to describe what God has revealed about Himself through the natural world around us. There is enough revelation in nature for God to declare that mankind knows of His existence inherently so that to deny such leaves a person "without excuse."
God does not believe in atheists! That is the claim of the Bible in Romans 1:20 where it tells us that God's invisible attributes, namely, his eternal power and divine nature, have been clearly perceived, ever since the creation of the world, in the things that have been made.
As spectacular as natural revelation is, it has its limitations. Nature does not tell us everything about God, or even all we need to know about God for salvation. Therefore, in addition to natural revelation, God has also given us Special Revelation, the God breathed Scriptures (the Bible). The Apostle Paul, writing to Timothy wrote, "But as for you, continue in what you have learned and have firmly believed, knowing from whom you learned it and how from childhood you have been acquainted with the sacred writings, which are able to make you wise for salvation through faith in Christ Jesus." (2 Tim. 3:14,15) Scripture tells us who this Creator God is and how we can be put in right standing with Him through the gospel of Jesus Christ.
In addition to the written word of God, this special revelation includes what John describes as the Word becoming flesh (John 1:14), in the Person of Jesus Christ. The writer of Hebrews puts it this way, "Long ago, at many times and in many ways, God spoke to our fathers by the prophets, but in these last days he has spoken to us by his Son, whom he appointed the heir of all things, through whom also he created the world. He is the radiance of the glory of God and the exact imprint of his nature, and he upholds the universe by the word of his power." (Heb. 1:1-3)
Jesus was able to say, "if you have seen Me, you have seen the Father." Jesus is the ultimate expression in terms of special revelation.. God has revealed Himself in the Person of His Son. In that sense, Jesus is God's final word to humanity. We reject Him at our peril.
I love to mine the treasures of God's word (special revelation) in order to know God better, yet I still marvel at the wonders of the natural realm. Living in the south west of the USA, I am always overwhelmed by the spectacular beauty of the sunsets here. I also am amazed when I observe (usually through television programs) things such as the incredible intricacy of the human eye with its billions of microscopic working parts that allows the brain the dynamic of sight.
Whether we look through the microscope or the telescope, the truth about God's existence, power and majesty is etched on my mind. In mentioning the telescope, each day, NASA puts out a stunning photo on its web site, and over time (since 1995) has released thousands of the most spectacular images I have ever seen. I would describe these photos as stunning, mind blowing, breath taking and totally awe inspiring! If you have never seen them, you should give yourself a treat and make time to look at some of them here.