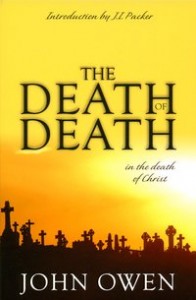 Continued from part 3
I ended the last post on this theme by recommending John Owen's book "The Death of Death in the Death of Christ." It is a majestic work. Though written many decades ago, I believe the arguments presented there remain unrefuted.
Here's what we need to think through. If we as Christians believe that Christ really did make an atonement for sin… if we believe He made an actual rather than a merely hypothetical atonement that really did remove the wrath of God on behalf of sinners, then we need to think through the logical consequences of that.
As John Owen makes clear in the book, if Christ made an actual atonement for sin, then by resistless logic, the following must therefore be true:
"The Father imposed His wrath due unto, and the Son underwent punishment for, either:

1) All the sins of all men.
2) All the sins of some men, or
3) Some of the sins of all men.

In which case it may be said:

That if the last be true, all men have some sins to answer for, and so, none are saved.

That if the second be true, then Christ, in their stead suffered for all the sins of all the elect in the whole world, and this is the truth.
But if the first be the case, why are not all men free from the punishment due unto their sins?

You answer, "Because of unbelief."

I ask, "Is this unbelief a sin, or is it not? If it is, then Christ suffered the punishment due unto it, or He did not. If He did, why must that hinder them more than their other sins for which He died? If He did not, He did not die for all their sins!"